NASA has announced the latest six winners in its Innovative Advanced Concepts (NIAC) program for 2013. The Phase 2 proposals, which come just several weeks after the twelve Phase 1 selections were announced, address a range of futuristic technologies that NASA says have the potential to transform future aerospace missions, either introducing totally new capabilities, or significantly improving current ones.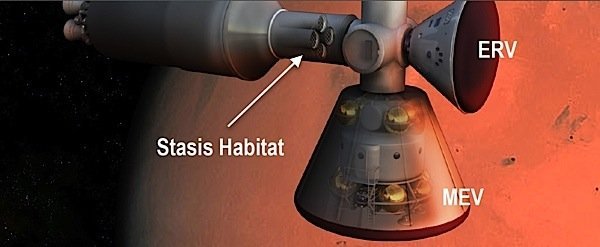 "As NASA begins a new chapter in exploration, we're investing in these seed-corn advanced concepts of next-generation technologies that will truly transform how we investigate and learn about our universe," said Michael Gazarik, NASA's associate administrator for space technology in Washington. "Advancing these proposals from universities, private companies and NASA researchers to Phase 2 studies allows new, futuristic ideas to move closer to becoming real tools for exploration."
Each Phase 2 award comes with as much as $500,000 for two years. The winners are selected by a peer-review process, based on innovativeness and technical viability, though the projects are in very early stages of development. NASA stresses that it could be years before any of them are actually used in a space mission.
The selected Phase 2 projects are
Propellant-less Spacecraft Formation-Flying and Maneuvering with Photonic Laser Thrusters
SpiderFab: Architecture for On-Orbit Construction of Kilometer-Scale Apertures
A Gravitational Wave Detector Based on an Atom Interferometer
Super Ball Bot: Structures for Planetary Landing and Exploration
Nomadic Exploration: Following Routes of Solar Sustenance and Temperate Climate
Sample Return Systems for Extreme Environments: Phase II
The Phase 1 winners this year, which could form the basis for future Phase 2 projects, depending of their promise of success, show how close we are coming to realizing some of Science Fiction's solutions to the problems of interplanetary travel.
The "Torpor inducing transfer habitat for human stasis to Mars" project will take a serious look at the feasibility of putting astronauts into a deep and prolonged sleep (torpor) for long periods, something imagined by Stanley Kubrick almost fifty years ago in 2001: A Space Odyssey, which was based on Arthur C Clarke's 1948 story The Sentinel. In the film, the crew who are not working on the ship are shown resting in suspended animation in special capsules. The real-life torpor-inducing habitat—NASA makes the point that such suspended animation "remains a long way off"— would be a small, pressurized module, separate from the rocket vehicle and the return module, in which the crew could essentially sleep much of the way to Mars, their metabolic rates reduced.

Another Phase 1 project that hopes to bring a long-held space dream to reality is the Pulsed Fission-Fusion Propulsion System (PuFF). NASA says that fission-ignited fusion systems have been around for decades, but only in weapon form. The proposed system will use fusion neutrons to induce a fission reaction in uranium or thorium, the energy from which will in turn further heat the fusion plasma. The combined energy released in the fusion-fission cycle will be channeled magnetically to produce thrust. If it works, it will provide a "radical improvement" over existing thrust systems for distant exploration of the solar system.
A third project hopes to solve the problem of replacing spare parts, including human body parts. "Imagine being on Mars with the ability to replace any broken part, whether it's part of your spacesuit, your habitat, or your own body." This exciting idea involves printing 3D arrays of cells "engineered to secrete the necessary materials" which can be organic, inorganic, or a combination of both.
Read about all of the NIAC projects here.