Today is the aniversary of Apollo 14's landing on the moon — 47 years ago! Elon Musk's vision — to take mankind back to "manned landings" — seems more credible when we look back decades at man's early landings on the moon. We are also about 24 hours away from the launch of Falcon Heavy — SpaceX's rough rival to the powerful old Saturn V, which helped the US dominate the Space Race. [See embed video feed below — in 24 hours watch the Falcon Heavy liftoff (we hope.)]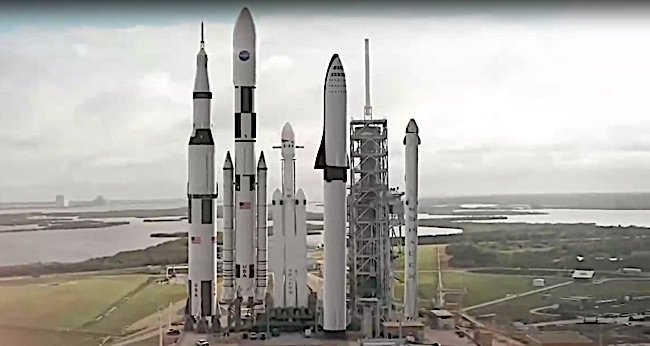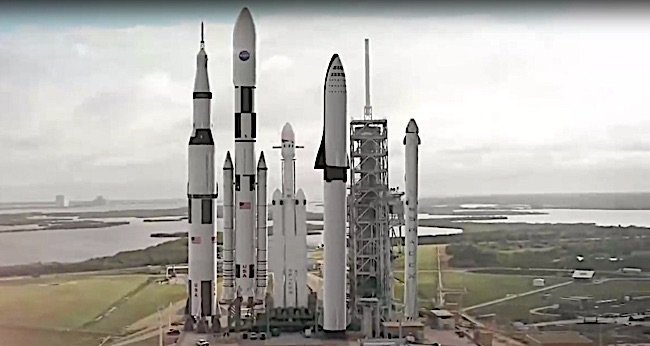 Ambitions of NASA to return to the moon, then on to Mars, certainly seem technically possible when you consider it's been nearly 50 years since the first manned landing. Without sophisticated computer programs and today's propulsion technologies, NASA managed the incredible — planting the flag on another planetary body. [See video below with landing.]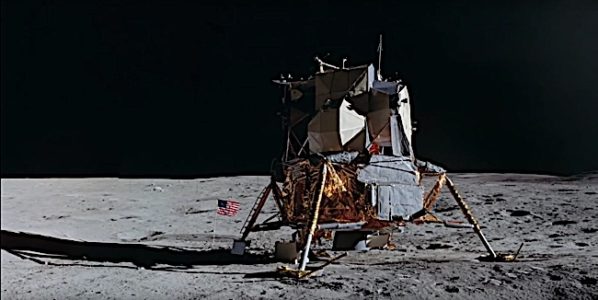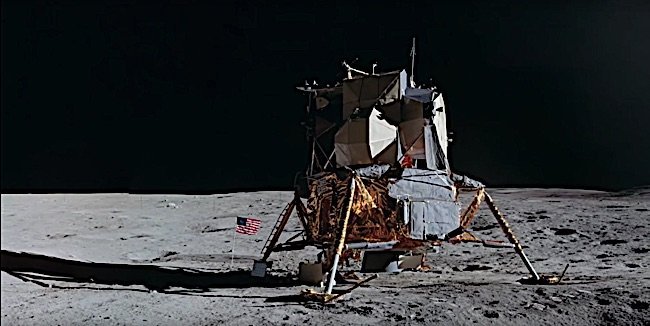 It's fascinating to look back — remembering that "faulty switch" that sent "aborts" to the landing modules primitive computer in the landing module Antares. NASA was forced to reprogram the computer to facilitate the landing. Even more hair-raising, landing radar was not able to measure the modules altitude and speed. Thanks to a manual landing by astronaut Alan Shepard, the lunar module landed right on target.
At 14:58 UTC, they stepped on to the moon's surface. Shepard's first words as he stepped on the lunar surface were:
"And it's been a long way, but we're here."
Comparing Saturn V to Space X's new monster Falcon Heavy
How much difference did 50 years make in technology? If size matters, then the Apollo mission, launched on a Saturn V rocket might seem to dominate — it was bigger than even Space X's amazing new Falcon Heavy. At a cost to launch of, according to Universe today, the Saturn V "Adjusted for inflation, this works out to approximately $1.23 billion per launch, of which $710 million went towards production." Estimates for NASA's new large rocket project also come in around $1 billion per launch.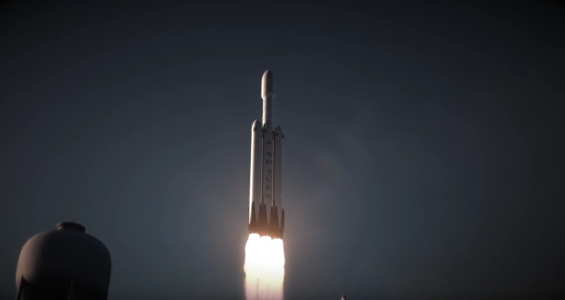 This works out to about $4000 per pound. [1] Although the payload, weight and size of Falcon Heavy is lower, as of April 2016, "SpaceX has indicated that a Falcon Heavy could lift 2268 kg (8000 lbs) to GTO for a cost of $90 million a launch – which works out to $3968.25 per kg ($1125 per pound)." Components are re-usable.
Saturn V was sufficient for the moon. Is Falcon Heavy ready for Mars? With modern technology, Elon Musk believes so.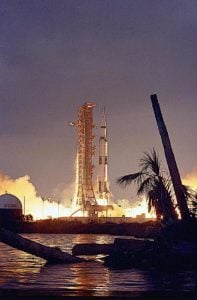 Here's a quick comparison of 50-year-old Saturn V versus tomorrow's Falcon Heavy
Saturn V:
Falcon Heavy:
Height:
110.6 m (363 ft)
70 m (230 ft)
Diameter:
10.1 m (33 ft)
12.2 m (40 ft)
Weight:
2,970,000 kg
(6,540,000 lbs)
1,420,788 kg
(3,132,301 lb)
Stages:
 3
 2+
Engines
(1st Stage):
5 Rocketdyne F-1
3 x 9 Merlin 1D
   2nd stage
5 Rocketdyne J-2
1 Merlin 1D
   3rd stage
1 Rocketdyne J-2
Thrust
(1st stage):
34,020 kN
22,918 kN (sea level);
24,681 kN (vacuum)
   2nd stage
4,400 kN
934 kN
   3rd stage
1,000 kN
Payload (LEO):
140,000 kg
(310,000 lbs)
54,400 kg
(119,900 lbs)
Payload (TLI):
 48,600 kg
(107,100 lbs)
 16,000 kg
(35,000 lbs)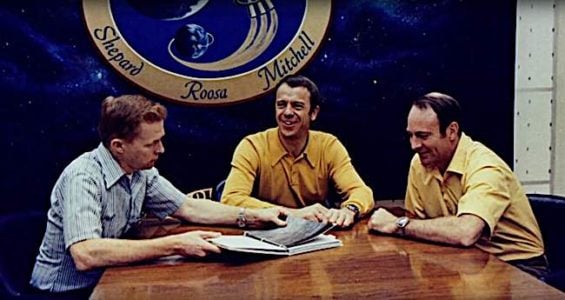 Full timeline of landing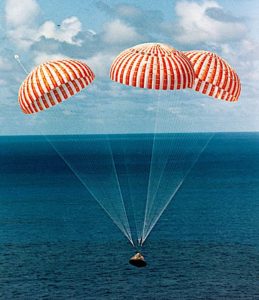 LM – CSM docking
Undocked: February 5, 1971 – 04:50:43 UTC
Docked: February 6, 1971 – 20:35:42 UTC
EVA 1
Start: February 5, 1971, 14:42:13 UTC
Shepard – EVA 1
Stepped onto Moon: 14:54 UTC
LM ingress: 19:22 UTC
Mitchell – EVA 1
Stepped onto Moon: 14:58 UTC
LM ingress: 19:18 UTC
End: February 5, 19:30:50 UTC

Duration: 4 hours, 47 minutes, 50 seconds
EVA 2
Start: February 6, 1971, 08:11:15 UTC
Shepard – EVA 2
Stepped onto Moon: 08:16 UTC
LM ingress: 12:38 UTC
Mitchell – EVA 2
Stepped onto Moon: 08:23 UTC
LM ingress: 12:28 UTC
End: February 6, 12:45:56 UTC

Duration: 4 hours, 34 minutes, 41 seconds

NOTES
[1] Universe Today>>