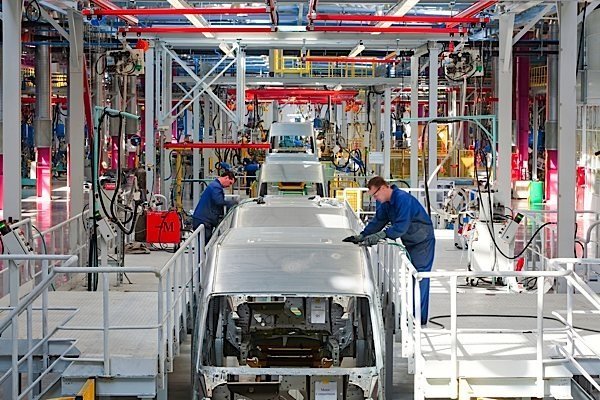 A positive performance by Canada's manufacturers has economists speaking of higher-than-forecast growth in the first quarter, and growing momentum in the manufacturing sector. Statistics Canada reports that manufacturing sales grew 2.3 per cent to a record $53.1 billion in January, the highest level on record. Ontario, where the auto industry played a big part in the gain, saw sales up 3.9 per cent, to $26.4 billion. Manufacturing sales were up in sixteen of the twenty-one industries reported on, making up more than 80 per cent of the sector.
Motor vehicle sales increased a hefty 9.6 per cent in January, to $6.6 billion, the highest level since November 2000. Two key factors were behind this strong growth, Statistics Canada says: changes in the industry toward higher-end models, and the lower Canadian dollar. A number of car makers retooled and upgraded their facilities last year to produce the higher-value models. While the number of cars produced did not change significantly, the average value of cars built has increased. Motor vehicles accounted for 12.5 per cent of all manufacturing in Canada in January, a level last seen in 2003.
The car parts industry also recorded an increase of 4 per cent, rising to $2.7 billion in sales, the fifth consecutive month to do so. Parts sales hit their highest level since December 2006, and the gains were widespread, Statistics Canada says.
January's gains were widespread by region as well. Eight provinces reported higher sales, led by Ontario and Quebec. Only Alberta and Nova Scotia recorded declines. For Alberta, it was the sixth month out of seven in which sales fell. Lower sales of petroleum and coal products, and of fabricated metal products, were the reason for the decline. Manufacturing sales in Alberta fell by almost 16 per cent in 2015. About 80 per cent of the province's manufacturing activity is petroleum industry related.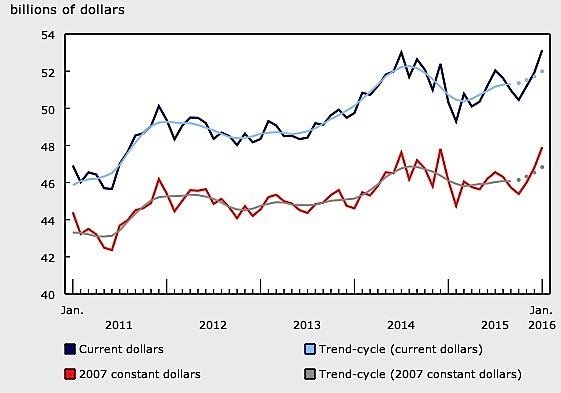 Unfilled orders rose in January for the first time in five months. Most of that gain was in aerospace products and parts, metal products, and clothing. New orders in those same industries also rose, rising 6.8 per cent.
The wholesale picture was at least partly positive in January as well. Higher sales were recorded in machinery and equipment, especially for the construction, forestry, mining and industrial equipment industries. Sales were up 6.4 per cent. Personal and household goods, food beverage and tobacco, and farm products all recorded higher sales in January. Sales of motor vehicles and parts decreased, however, by 2.8 per cent.