Andritz Hydro of Austria, one of the world's leading suppliers of technology and services for hydroelectric stations, is opening a manufacturing facility in Peterborough, Ontario. The plant will make stator coils for use in new and refurbished hydropower generators in the North American market. The first deliveries of stator coils made in the plant are scheduled for summer of this year. The announcement of the opening did not include details about the number of employees who will work in the 17,000-square-foot plant. The investment is supported by the Eastern Ontario Development Fund.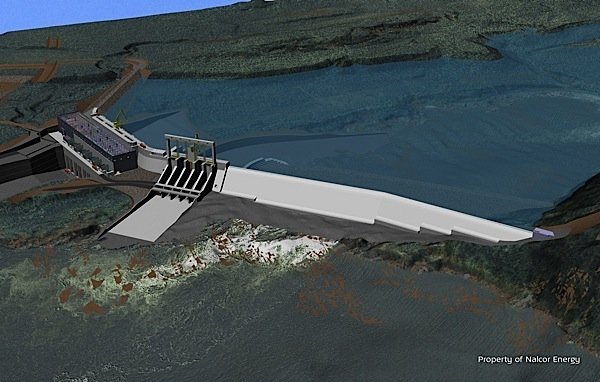 Andritz Hydro is already well known in Canada, and has an engineering design and sales offices in Ontario and Quebec. In January 2013, the company was awarded a contract, reportedly worth $170 million, by Nalcor Energy to supply four Kaplan turbines and four synchronous generators, each with a minimum output of 206 megawatts, for the Muskrat Falls hydroelectric generating facility on the lower Churchill River in Labrador. According to Andritz, they will be among the largest Kaplan turbines in the world. Kaplan turbines are propeller-type turbines developed in Austria a century ago.
Now Andritz has announced that further to that original contract it has been given an order to supply all hydromechanical equipment for the Muskrat Falls project. This includes the delivery and installation of roller gates, stop-logs and a tower for the mechanical drives for five spillway bays, as well as twelve trashracks, intake gates, mechanical drives and stop-logs for the powerhouse.
Power generated at Muskrat Falls will replace energy production of an existing oil-fired thermal power station. The Muskrat Falls project is the first phase of a the two-phase Lower Churchill Project, and includes an 824 megawatt hydroelectric generating facility. It was given approval by the government of Newfoundland and Labrador in December 2012. Construction is expected to take five years.
In addition to its hydro division, Andritz operates in more than two hundred production sites around the world, offering technologies used in the production of animal feed and biomass pellets, pumps, machinery for nonwovens and plastic films, steam boiler plants, biomass boilers and gasification plants for energy generation, flue gas cleaning plants, plants for the production of panelboards (MDF), thermal sludge utilization, and biomass torrefaction plants.