There's something awe-inspiring about seeing the Thunder Child interceptor patrol boat break through waves, then leap out of the water like a dolphin. Even more amazing is its performance in a rollover.
Not only can Thunder Child pierce the waves, she can also recover from full capsize thanks to a fully buoyant and water-tight cabin and low centre of gravity. Thunder Child is designed to be "almost' unsinkable — after all, nothing is entirely unsinkable — rated safe up to sea state 8.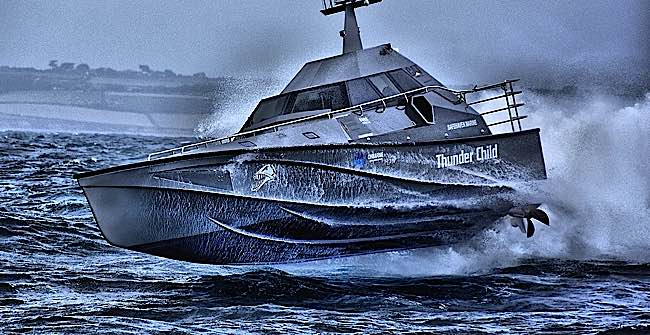 Engineers at Safehaven Marine (with their many partners), made Thunder Child the nearly the perfect boat for many naval, law enforcement and patrol applications. Likely beyond the reach of casual boaters, Thunder Child may be the golden child of patrol fleets who require fastest-possible emergency response times. Seating ten total — six in suspended Wavebreaker seats, and another four in fixed seats — Thunder child is a sleek 53 feet 6 inches, and draws only 2 feet 9 inches, with a slim beam of 12 feet 6 inches. Very svelte.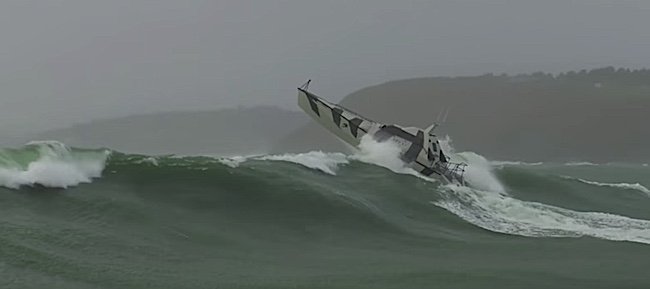 Powered by 2000 hp of diesel Caterpillar engine — two 1000 h.p. 12.9 turbocharged units — running two "pitchable" props, Thunder Child has the power not only to speed to rescues at 54 knots, she can cruise on 5000 litres of fuel to a range of 750 nautical miles — the sweet spot for coastal rescue. She is also handy in stormy weather, as seen in her storm test. [Video below.]
Thunder Child's storm test:
Survivability to sea state 8: 4 water tight compartments
With Thunder Child designed to a very low centre of gravity, combined "with watertight integrity and buoyancy of the cabin" she is able to self-right herself after a capsize, for example, in a break-over wave situation.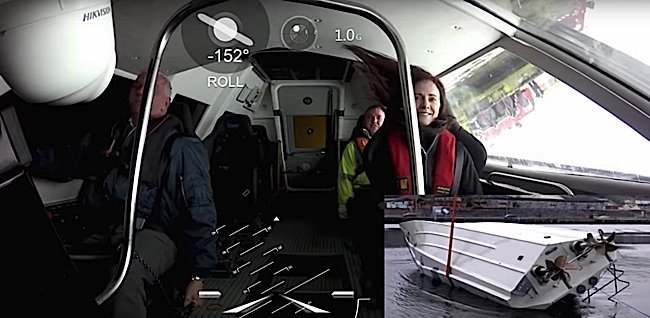 Thunder Child is survivable up to a sea state 8 and operates safely up to sea state 6. Equipped with bow buoyancy control fins, and adjusting pitch twin propellers, she can handle almost any scenario.
Thunder Child capsize test:
Tough hull designed for both planing and wave-piercing
Thunder Child is made from FRP cored composites which are ultra strong, and is fully capable of both planing and wave-piercing modes thanks to a constant dead-rise deep V hull. The 24-degree dead-rise transitions at the transom to a wave-piercing bow.
Thunder Child's endurance test: 2067 km circumnavigation of Ireland in stormy seas:
Equipment: missing nothing, except guns (optional)
Thunder Child is fitted will full array navigational equipment and includes: HD Radar, AIS, GPS — displayed on three colour monitors at helm — plus VHF communications. She is also equipped with night navigation, with FLIR Thermal night vision cameras and four-zone CCTV. There is a dedicated engineering position with full displays and controls.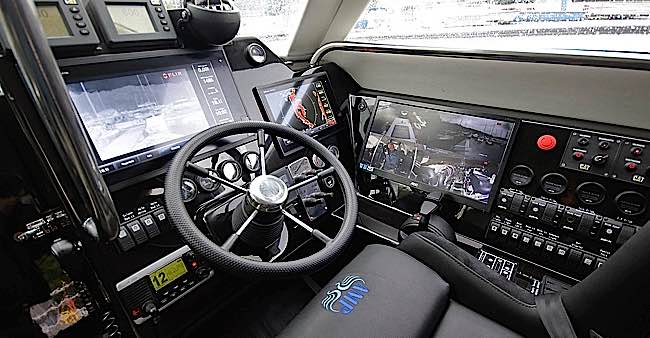 Unless you're navy, law enforcement, or very rich you probably won't be lucky enough to own or run one of these unsinkable beauties, but if you ever need rescuing, you might be thanking the Engineers at Safehaven Marine.