Despite unrelentingly bad news from Canada's energy sector, the country's wholesale trade ended the year 2014 on a high. Wholesale sales rose 2.5 per cent in December, Statistics Canada reports. Higher sales in six of seven subsectors brought in $55.4 billion in December, led by the motor vehicle and car parts industry.
That industry recorded the largest gain in dollars, rising 5.5 per cent, to $10.1 billion. December's sales were the highest on record for the auto and auto parts industry. It was the third consecutive month to show an increase in car sales.
For the fifth consecutive month, the miscellaneous subsector, which includes agricultural supplies and chemicals recorded higher sales. Here sales were up 6.1 per cent to $7.3 billion.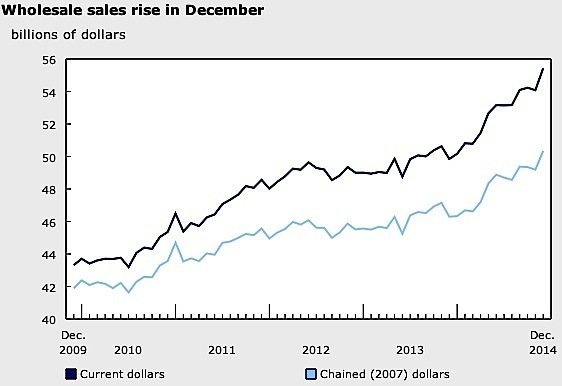 The building materials and supplies subsector experienced sales growth of 3.6 per cent, to $8.1 billion, mainly on the strength of sales of electrical, plumbing, heating and air-conditioning equipment. This industry has seen sales growth in nine of the last ten months.
Personal and household goods sales rose 1.1 per cent to a record $7.4 billion, with the greatest gains in the home furnishings industry, up 9.7 per cent.
A decline in construction, forestry, mining and industrial machinery, equipment and supplies offset gains in computer and communications equipment for a net decline of 0.2 per cent in the machinery, equipment and supplies subsector. Sales of $11.2 billion were recorded.
Most of the gain in wholesale sales was in Ontario, where sales rose 3.7 per cent to $27.5 billion. It was the ninth increase in twelve months, with widespread gains led by the auto sector. However, gains were seen in seven provinces.
On an annual basis, wholesale sales totaled $633 billion, an increase of 6.4 per cent over the previous year. All of the seven wholesale trade subsectors recorded higher sales in 2014, the largest being auto and auto parts, and building materials and supplies. Every province also recorded higher sales in 2014, Ontario accounting for about half of all sales.
The December gain of 2.5 per cent was higher than economists had expected, after a decline in wholesale trade in November.