Gaming and tech company Razer has unveiled their newest creation for PPE facemask technology: Project Hazel.
---
Project Hazel is quite possibly the world's most high-tech PPE facemask that has been created so far, with the prototype being revealed as part of the CES 2021 tech convention.[1] And while it is currently not for sale, it does spell the beginning of something new for PPE face masks.
Razer's new prototype face mask focuses on 5 different aspects of design in order to create a safer and more comfortable experience for users, encompassing enhanced safety, sociability, sustainability, comfort, and personalization.
Razer's prototype facemask features an N95 surgical respirator, having a high bacterial filtration efficiency (BFE) while also being highly fluid-resistant so that any wearer is protected from droplets that hang in the air.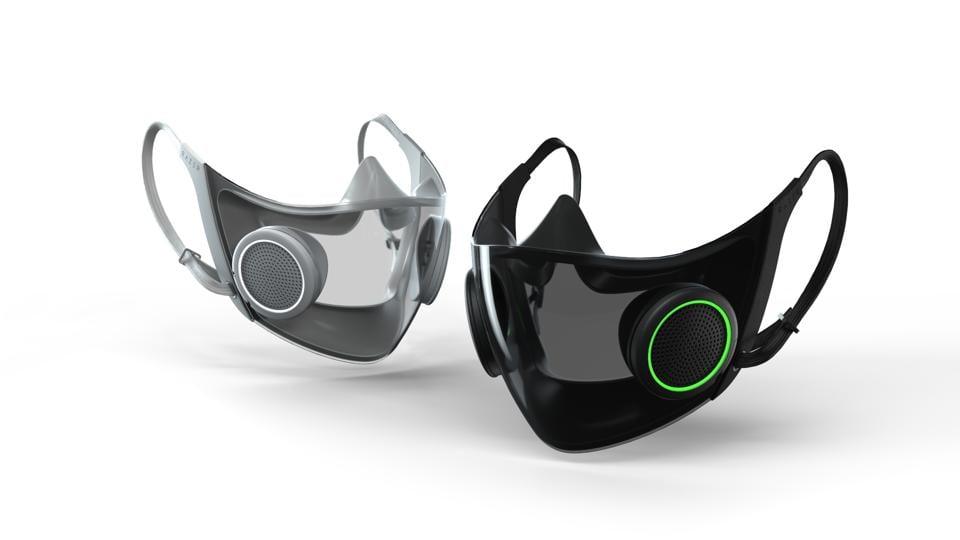 Its active ventilation system also expels your hot, exhaled air while drawing in cooler, filtered air so that you don't have to fight through the resistance of an unpowered air filter to get a fresh breath. Topping off the safety features of this face mask is its self-sterilizing charging pad. In order to reap the benefits of this mask, it needs to have battery, so Razer decided to build into the charging station a series of UV lights that kill bacteria and viruses every time the mask is set down to recharge.
A built-in microphone and speaker captures and amplifies a user's speech so that the mask doesn't muffle your voice like most other face coverings. The mask is also made of see-through plastic so that anyone you are talking to can still see your facial expressions and read your lips. Although this isn't a particularly new feature in PPE headwear and masks, Razer has taken the extra step and built in ambient, low-level lighting into the mask that turns on in poor lighting conditions, "allowing you to express yourself clearly regardless of the lighting conditions".[2]
Following on with Razer's ethos of sustainability and making products that are friendly for the environment, the face mask is made from recycled materials and has easily rechargeable and replaceable disc ventilators so that users can maintain the mask's high BFE.[3]
The mask's ventilation system also revolutionises the comfort level of PPE masks, since CO2 is regularly expelled which prevents headaches, dizziness, and the all too common feeling of overexertion due to not being able to get enough fresh air in. It features a silicone guard that comfortably rests around your face, preventing the mask itself from touching a user's mouth so they can continue talking normally while also completely sealing the mask so no unfiltered air can leak in.
And even though the mask has not been released for public consumption at this point, Razer has stated on their website that these masks will also have options to be custom-made for consumers so that they perfectly fit a user's face shape.
Building off of the customizable aspects of the mask, users will also be able to choose from a huge range of lighting effects and colour options to add an extra level of flair to their personal protective equipment.[4]
All of this adds a level of excitement to the next generation of PPE facemasks that are soon going to be hitting the market, and the timing is perfect as we could all do with a bit of assurance regarding our own safety along with some extra flair and colour to liven up day-to-day life.
[1] Forbes, "CES 2021: Razer Unveils Project Hazel—A Smart Facemask Everyone Will Want",https://www.forbes.com/sites/anthonykarcz/2021/01/12/ces-2021-razer-unveils-project-hazel-a-smart-facemask-everyone-will-want/?sh=11a14f8d7274
[2] Razer, "Project Hazel", https://www.razer.com/concepts/razer-project-hazel
[3] Tech Radar, "Razer's Project Hazel has us genuinely excited to wear a smart face mask",  https://www.techradar.com/news/razers-project-hazel-has-us-genuinely-excited-to-wear-a-smart-face-mask
[4] Razer, "Project Hazel", https://www.razer.com/concepts/razer-project-hazel