A new study of methane emissions at natural gas production sites in the United States has found that the Environmental Protection Agency's methods for estimating emissions "overpredict" those emissions. The result of the overpredicting, to which the study does not attribute a cause, is "a large uncertainty" in the national emissions from gas well unloading. The study was conducted by the Centre for Energy and Environmental Resources, University of Texas. Approximately 500 wells were analyzed for the study. The analysis was conducted on the drilling sites and reports direct on-site measurements of methane emissions. Other studies, the report points out, frequently measure emissions at up to 1 kilometre's distance from the wellhead.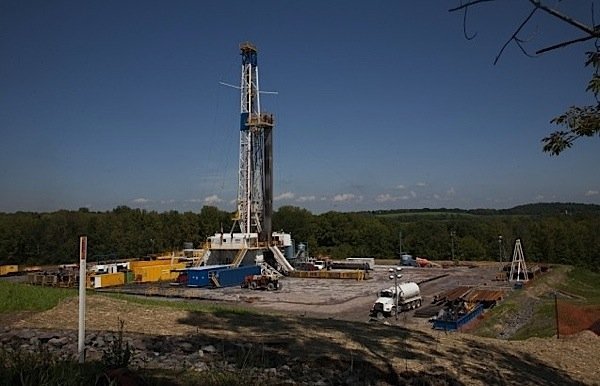 The finding that drilling for shale gas by fracking causes smaller leaks of methane than previously believed will provide ammunition for proponents of fracking. They have argued all along that shale gas is clean—certainly cleaner than coal—and safe. The study found that while a great deal of methane did escape from wells that were being prepared for production, most of that methane (more than 99 per cent) was captured.
One important result from the measurements reported here is that current EPA estimation methods overpredict measured emissions. If the emission estimation method  used in the API/ANGA survey is applied to the events sampled in this work, estimates are 5 times higher than measured emissions.

Centre for Energy and  Environmental Resources, University of Texas
Some of the methane emissions occur when the drilled well is cleared of the liquids that were used to fracture the shale. This is known as "well completion flowback." The Texas study found that the average flowback emission of methane was 1.7 Mg per completion. The EPA estimate, by contrast, is 81 Mg of methane per flowback. Other sources of emissions are equipment leaks and pneumatic pumps used in the process. The pneumatic pumps release methane as part of their routine operation, the study says. The Texas study found that the combined leakage of methane from flowback, equipment leaks, and pneumatic pumps was 0.42 per cent of gross gas production.
The report states that well completion emissions are lower than previously estimated, while emissions from leaking equipment and the operation of pneumatic pumps and wellhead controllers are higher than EPA estimates. The significance of the report is that it will help inform policymakers and industry, and "better inform and advance" the discussion among national and international scientists and governments.