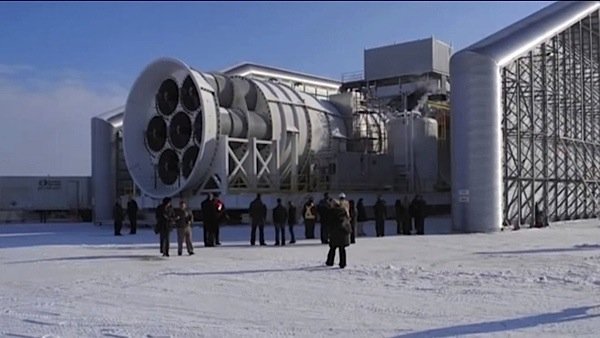 GE Aviation opened its new cold-weather jet engine testing facility in Winnipeg in 2012. The 11,200 square metre facility (121,000 square feet) at the city's Richardson International Airport was a $50 million investment by GE and StandardAero to take advantage of the noteworthy frigid weather in "Winterpeg." Now the facility, which is operated by StandardAero for GE, is about to expand. Reports are that GE will spend $26 million on upgrades to the Test Research and Development Centre (TRDC), expanding its capabilities from cold weather testing to other kinds of tests. These include dust and hailstone injestion, endurance testing, and bird injestion.
According to the Winnipeg Free Press, the large existing wind tunnel and ice crystal projector will be replaced by an even larger one to accommodate new engines now under development. GE hopes to begin testing in the upgraded facility in 2017.
In testing, seven giant fans push air through the wind tunnel. A range of nozzles then spray water droplets that freeze mid-air before pelting the test engine, mounted on a thrust stand. While the test is underway, high speed photography captures images of the ice build-up on the engine's fan blades and spinner. The engine must be able to operate with a certain amount of ice build-up, a StandardAero production manager told CBC news. Even if the ice breaks off, the engine has to sustain operation.
The Winnipeg facility is GE's only cold-weather test facility now. A GE engineer said that every new jet engine for the next thirty or forty years will have been tested in Winnipeg.
Photo credit: GE Aviation