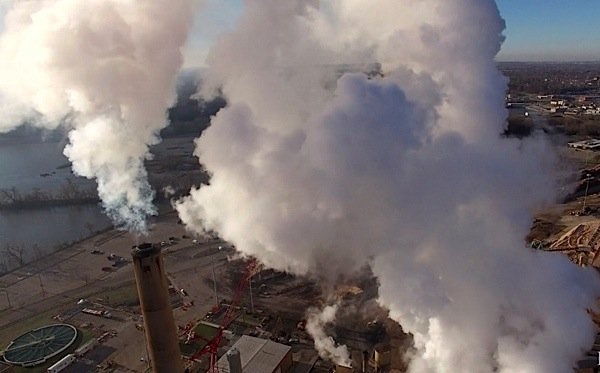 A multi-disciplinary team of researchers at the UCLA Luskin Centre for Innovation has developed a process for turning a harmful by-product of the cement industry into a harmless raw material of the end product itself, concrete. They can capture carbon dioxide, which is emitted in large quantities during the manufacture of Portland Cement, and use it to make concrete. Because the production of concrete accounts for approximately 5 per cent of global CO2 emissions, the ability to use that carbon in making concrete would be "a double whammy," according to the UCLA team, who call their invention Co2ncrete.
Proof of concept was shown by combining pure CO2 with lime to create "a cement-like material," then using 3D printing technology to create small samples of the Co2ncrete in the lab. Wider application of the process would be in the power generation industry, however, particularly in coal-fired power plants, whose smokestacks are the greatest source of greenhouse gas emissions in the world. The UCLA team envision a closed-loop process in which the CO2 is captured from the smokestacks and used to make concrete. The challenge, according to Gaurav Sant, a member of the UCLA team, is not in developing a building material but developing "a process solution, an integrated technology which goes right from CO2 to a finished product."
What is really different about the UCLA approach is that they go beyond mere carbon capture technology, which has been around for several years. Previously, no one had found a way to use the captured carbon, instead merely storing it in one way or another, to keep it out of the atmosphere. As a result of "blue sky" thinking, the researchers at UCLA believe they can take the toxic material and make it not only functional but even instrumental in tackling climate change. CO2 can then be seen as a resource that to be utilized rather than simply as a nuisance to be disposed of.
Industrial smokestacks become sources of a valuable resource that can be used in clean building, say the UCLA team. "We're going to try to use it to create a new kind of building material that will replace cement," said Professor J.R. SeShazo at UCLA's Luskin Center for Innovation. "This technology tackles global climate change, which is one of the biggest challenges that society faces now and will face over the next century."
Scaling up the process from the lab to industrial application is the utmost challenge for now. Another challenge will be convincing the building industry that the technology is economically sound as well as being good for the planet.
Carbon Upcycling: Turning Carbon Dioxide into CO2NCRETE from UCLA Luskin on Vimeo.