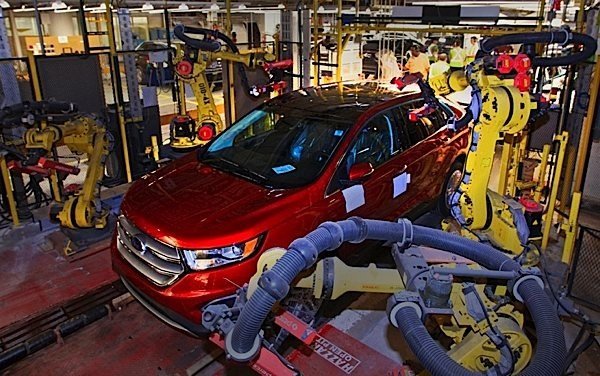 Exports of Ontario-made vehicles and parts will lead the growth in the province's exports in 2016 with 10 per cent growth, according to Export Development Canada (EDC). High demand in the US and the low Canadian dollar are driving Ontario's exports to 7 per cent growth this year, the highest of any province. Almost every exporting industry in Ontario will see strong growth, the other notable sectors being industrial machinery and equipment, with 9 per cent growth forecast, and metals, ores and other industrial products increasing by 5 per cent. Nationally, exports are forecast to be a much less impressive 2 per cent overall, EDC says. Three sectors will not see growth in 2016: energy, fertilizers, and chemicals/plastics.
The importance of the US market cannot be overstated. America is "hot," the report says, and US consumers are in "great shape," as evidenced by looming capacity constraints, falling unemployment, tightening office and industrial space, the result of increasing demand, and high income growth. The US economy is "powering up" and its growth is benefiting the rest of the world. If the US is the locomotive of world economic growth, said EDC chief economist Peter Hall, Canada is the first wagon with Ontario "sitting firmly in the front row." The return of US demand for manufacturing, he said, "plays right into the strengths of Canada's manufacturing heartland."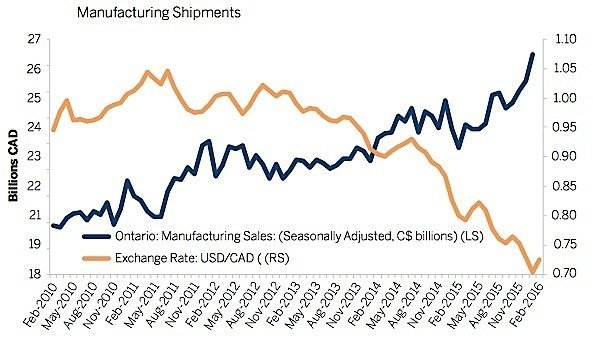 Ontario is in a strong position to provide those all-important auto exports, with auto makers Ford and Chrysler both having recently modernized and retooled plants in Oakville and Windsor. Demand continues to strengthen for cars and car parts, fuelled by high employment, healthy balance sheets, low gas prices and substantial pent-up demand. Production is in full swing in Ontario, EDC says, though GM's long-term presence in Oshawa is a question that will likely be answered by the end of 2016.
The value of Ontario's merchandise exports is forecast to grow by 7% in 2016 and 3% in 2017, supported by a competitive Canadian dollar and higher shipment volumes. Despite some competitiveness challenges from the Mexican peso's more pronounced depreciation to date against the US dollar and the forecast recovery of the loonie, robust demand from a strengthening US economy will continue driving broad-based export gains across Ontario's non-commodity sectors.
Canadian aerospace exports are forecast to soar this year, rising 13 per cent and 7 per cent next year. Once again, exporters like Bombardier are benefitting from the low Canadian dollar. Falling energy prices have also benefited airlines, translating into fleet expansions and renewals. Bombardier's CSeries aircraft is expected to enter into service in the second quarter, which will lead to ramped up production. In fact, global aircraft production is expected to remain "stretched" throughout 2016 as order backlogs remain "exceptionally" high. Bombardier is reported to have an order backlog of nearly $29 billion. The market for business jets, on the other hand, is slowing. Lower global commodity prices and slower growth in Russia, China and the Middle East are dampening demand. Bombardier cancelled its Learjet program last year as a result of weak sales.
Ontario exports of metals, ores and other industrial goods are expected to grow by 5 per cent this year and next. Gold production will continue growing, and export growth will be boosted by safe-haven and central bank demand and a competitive currency. Gold prices are forecast to rise in the first half of the year then "wane" later on. Steel export growth, on the other hand, will remain challenged by lacklustre production volumes.