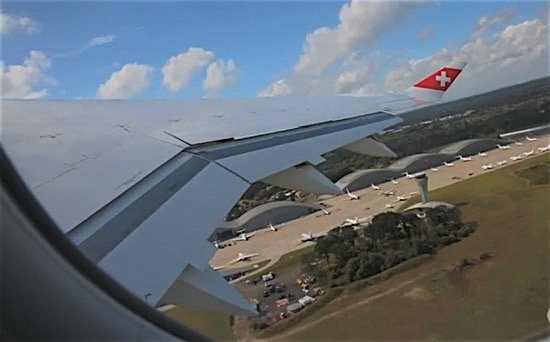 Bombardier may not have taken any new orders for its C Series jets at the Farnborough International Airshow in England this week, but at least it had the satisfaction of seeing its first CS100 make its maiden commercial flight form Zurich to Paris. The plane is owned by Swiss International Air Lines (SWISS), and had been at Farnborough during the airshow to give potential customers a chance to fly in it. Bombardier called the first revenue flight today an "outstanding achievement" that continues to build the momentum for the C Series program.
"The launch of revenue service with the CS100 aircraft is a fitting culmination to this year's Farnborogh Airshow," the official statement said, "and follows Bombardier Commercial Aircraft's strong sales performance in the first half of 2016, during which we obtained firm orders for 127 C Series." The company said it is "very encouraged" by the feedback it has received from airline and aviation executives from around the world. The C Series is being positioned as an "all-new, technically advanced aircraft" that urges airlines to put aside "decades-old aircraft design" in favour of the state-of-the-art design, materials, technology, performance and passenger amenities that set the C Series apart.
The chief operating officer of SWISS, Markus Binkert, commented that the CS100 is "a class act in every respect" and that he was "extremely proud" to be the first airline in the world to fly it. The entry of the C Series into service ushers in "a new era" in short- and medium-haul air travel, Binkert said. SWISS has ordered fifteen of the CS100 jets and fifteen of the larger CS300 models.
Meanwhile, Brazil has clouded the picture for Bombardier by announcing that it is considering a formal trade challenge against Canada because of the $1 billion in state funding Bombardier has received from the Quebec government, which it sees as an unfair subsidy. Brazilian rival plane maker Embraer competes in the same markets as Bombardier with its E-Jets. Brazil's foreign minister Jose Serra was the first senior Brazilian official to publicly acknowledge the possibility of a challenge before the World Trade Organization, though the two countries have disputed with each other for years over subsidies. Brazil's economy has been hit by the worst recession in generations, with nearly two million jobs lost in the last year alone.