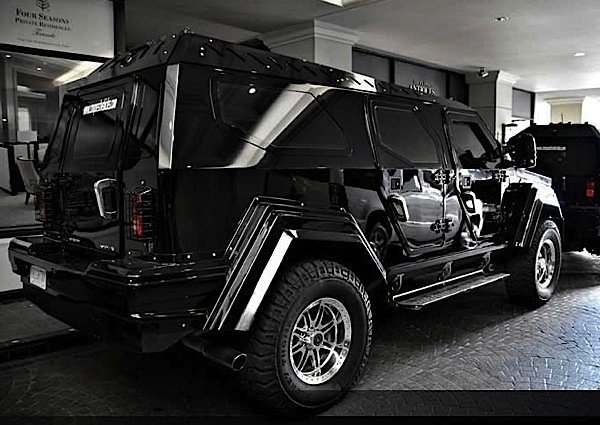 A company that began more than twenty years ago to provide cash transfer services from business premises to the bank vault has opened a new facility, complete with Canada's only armoured vehicle showroom, in Toronto. INKAS Group of Companies now employs more than 200 at its new headquarters, which combines manufacturing and office space, and that showroom. The importance of the showroom cannot be overstated, as the vast majority of the company's clientele are from overseas. The facility, says INKAS, was designed with state-of-the-art features to show off the vehicles to foreign guests.
INKAS does not build its own armoured vehicles, but works with OEMs like Mercedes-Benz and Cadillac. The company strips down the original vehicle before refitting it with security standards like full-perimeter armouring, under-body plating, and tires that can run when punctured. It also reinforces the vehicle's suspension and installs bullet-proof glass. A makeover can take from several weeks to several months, depending on what the client wants. Clients include law enforcement agencies, corporations, financial institutions and wealthy, high-profile individuals around the world.
Customers looking for a luxury armoured vehicle can find one at Conquest Vehicles, also in Toronto. The handcrafted, fully armoured Conquest KNIGHT XV is the epitome of luxury in this market niche, a massive six-tonne behemoth that starts at US$629,000 and can go hundreds of thousands higher. Among the usual bespoke requests, according to the company, are fridge and entertainment units, plus a gun safe.
For applications where safety is more important than luxury, like law enforcement and military missions, the famous Terradyne Gurkha Armoured Vehicles of Newmarket are the choice for many police forces and military customers. Winnipeg Police Service recently purchased Gurkha armoured personnel carrier from Terradyne for $343,000. It will be used for rescues, hostage situations, and other high-risk situations. A civilian edition of the Gurkha is also available.
The armoured carmaking industry in Ontario is reported to be worth around $200 million annually, most of the products being exported to countries like China and the Middle East. One of Conquest's luxury KNIGHT XVs was seized from a warehouse belonging to the son of the ousted president of Ukraine in 2014. Production numbers are low, with perhaps a few hundred vehicles coming off the line each month.
However, at the other end of the spectrum, General Dynamics Land Systems, located in London, Ontario, won a contract under the previous government in Ottawa, said to be worth $15 billion, to build light armoured vehicles for Saudi Arabia.