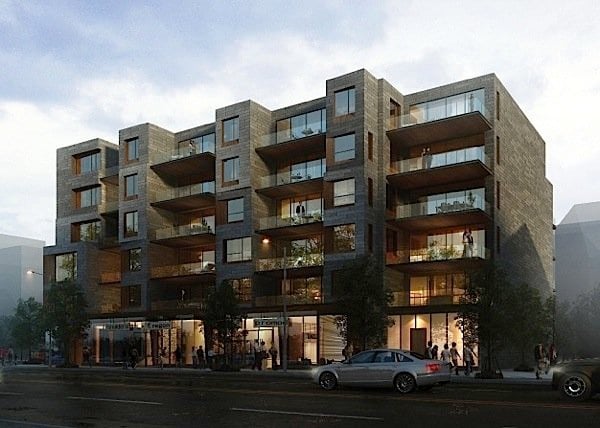 The first mid-rise wood frame construction project to be built in Toronto will likely be condominiums. The firm of Quadrangle Architects submitted an application to the city of Toronto for a building permit at the beginning of December, the first such application since changes to the Ontario Building Code took effect on January 1, 2015. Those changes allow for wood frame construction of buildings up to six storeys high. The forty-unit condo development, named Heartwood, will be built on Queen Street East at Woodbine Avenue in the Beach area of Toronto. The site was formerly occupied by a gas station.
Quadrangle Architects has been an advocate for wood construction and was recognized as such by WoodWORKS! Ontario in 2015. Construction on Heartwood is expected to begin in March, 2016, with completion early next year, taking approximately twelve months in all.
The city of Toronto wants to encourage more mid-rise, mixed-use residential buildings in general, particularly on certain key arterial roads like Eglinton Avenue and Danforth Avenue, to help achieve its densification targets and provide more affordable housing options. Building in wood is seen as an economical option, with construction costs estimated to be up to 10 per cent lower overall. Architects and designers have also praised wood for its flexibility as a construction material, which gives them greater creative freedom.
Construction time can also be shorter with wood, an advantage for condo buyers as well as for the local community. This type of construction is seen as ideal for infill building, because of its lower height and less disruptive construction timeframe. In the case of the Heartwood project, pre-fabricated cross laminated timber will be used, and construction time could be reduced by four to six months. Exterior cladding will be non-combustible fibre cement panels. Underground parking and foundations will be concrete.
So far, about a dozen wooden building projects have been launched in Ontario. The first to actually break ground was a 209-room hotel in Hamilton.