The latest report on manufacturing in Canada is dominated by the aerospace and transportation equipment industries. On the one hand, manufacturing was down, but unfilled and new orders for aerospace products and parts were up strongly.
A drop in transportation equipment shipments, always a volatile sector of the economy, helped push Canada's manufacturing sales lower  by 0.9 per cent in December, Statistics Canada reports. It was the first decrease since August 2013. Despite the decline, manufacturing sales have risen in six of the past eight months and were 2.7 per cent higher than in December 2012. Sales were down in three-quarters of the industries tracked by Statistics Canada. The lower volumes of manufactured goods sold showed as a  dollar decrease of 1.9 per cent.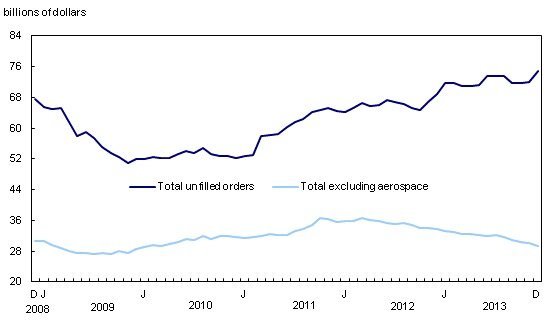 The fall in transportation equipment sales, which dropped 6.1 per cent to $8.8 billion, came after a seventeen-month high reached in November 2013. The biggest drop was in the aerospace product and parts industry, but declines were widespread in the motor vehicle industries as well, including assembly, body and trailer, and parts. In Ontario, the decline in transportation equipment and primary metal industries sales pushed sales down by 0.8 per cent, to $22.8 billion. Higher sales in petroleum and coal products mostly offset the losses, Statistics Canada said. The 5.2 per cent increase in petroleum and coal was the first in three months, and pushed sales to their highest, $7.3 billion, since March 2012.
Manufacturing inventories were also down in December, again attributable to lower aerospace products and parts, machinery, fabricated metal products and petroleum and coal products. However there was strong gain unfilled orders, which rose 4.2 per cent to $74.9 billion. This continues a trend that has prevailed for twelve of the past fourteen months. The biggest gain was in the aerospace products and parts industry, where unfilled orders rose 8.5 per cent $45.5 billion. This was the largest gain in almost a year. Unfilled orders for aerospace products made up 60.7 per cent of all unfilled orders. In December 2012, by comparison, the aerospace share of unfilled orders was 50.8 per cent.
New orders also rose 4.5 per cent to $52.9 billion, mostly attributable to the aerospace product and parts industry.