The number of building permits issued in Canada in May, residential and non-residential, far exceeded expectations, coming in at $6.9 billion. The increase was due to greater demand for new housing and commercial buildings. Overall building intentions were up 13.8 per cent from April, Statistics Canada reports, far surpassing the 2 per cent increase analysts had expected. The number for April was also revised upwards, from 1.1 per cent to 2.2 per cent. Much of the increase in May was due to the commercial sector, where the number of permits rose 20.8 per cent, to $2.8 billion. The number of residential permits increased 9.5 per cent, to $4.1 billion. The trend for building permits has been upward since the beginning of 2014.
Ontario, Manitoba and British Columbia led the gains, which were widespread across the country. Only Quebec and Nova Scotia did not see increases in construction intentions. Ontario's gains were substantial in the commercial and single-family sectors. Toronto had the largest increase of all cities in the country.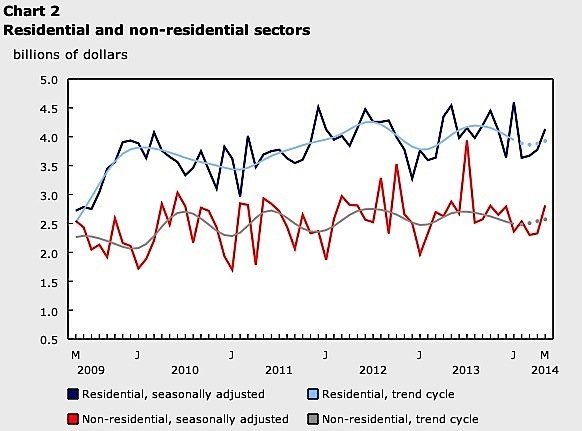 Permits for multi-family dwellings rose 16.1 per cent to $1.9 billion, the third month in a row for increased building intentions in that sector. The value of single-family dwelling permits, however, was higher, at $2.3 billion. Ontario recorded the largest gain in the single-family dwelling sector. As new housing starts in May were the second highest since last July, the higher rate of permits that month could point to an even higher number of starts in the next couple of months. Sales of existing homes also set a new record in May in Toronto, a market that has been held back, many feel, by a lack of supply. It is possible that the big increase in permits for single-family homes is a response to that shortage of inventory.
The increase in building permits in the commercial sector was most striking, with a 39.4 per cent increase, to $1.8 billion. This increase reflects intentions to build more warehouses, retail complexes, recreational facilities, hotels, and restaurants. Industrial permits also increased sharply, rising 22.4 per cent on the strength of construction intentions for manufacturing plants in Quebec and Alberta, Statistics Canada says.