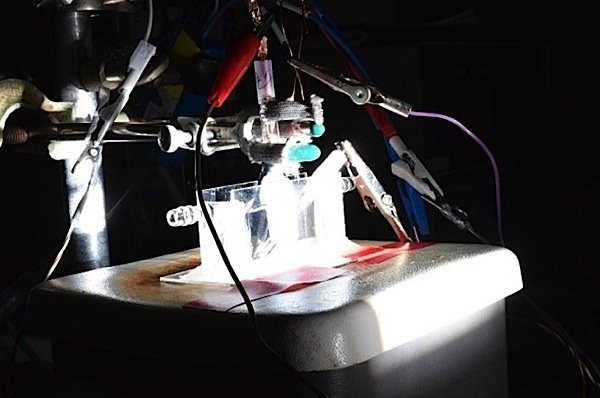 Hydrogen, according to many, including now a University of Wisconsin chemistry professor, could be the ideal fuel. Whether used for making electricity in a fuel cell or burned to make heat, its only by-product is water. There is no carbon dioxide.
In order to produce usable hydrogen, water must be separated into its constituent oxygen and hydrogen. The water-splitting devices that do this run on electricity and usually use very expensive oxidation-resistant metals like platinum, palladium and even gold as the catalyst for the process. Professor Song Jin said that "the whole game" is coming up with inexpensive catalyst alternatives to the noble metals, and he believes he has found one.
Writing in an online journal Nature Materials, Jin and his researchers claim that they have used the "Earth-abundant" elements phosphorus and sulfur along with cobalt, described as 1,000 times cheaper than platinum, to make hydrogen. The new catalyst is "almost as efficient" as platinum and likely shows the highest catalytic performance among the non-noble metal catalysts reported so far. Jin says that the best results are still achieved with platinum, but if "a bit of performance" can be sacrificed and cost is a concern, the cobalt catalyst would be a good alternative.
It may also become a necessity because of the relative scarcity of platinum. Speaking of the climate change implications of hydrogen as a fuel, Jin noted that a "significant portion" of the fossil fuels we now use would have to be replaced in order to make a difference. To make enough renewable fuel to have an impact on the "climate crisis" of global warming, we will need "square miles" of devices to produce that much hydrogen. There might not be enough platinum to do that, he said.
The scalable and sustainable production of hydrogen fuel through water splitting demands efficient and robust Earth-abundant catalysts for the hydrogen evolution reaction (HER). Building on promising metal compounds with high HER catalytic activity, such as pyrite structure cobalt disulphide (CoS2), and substituting non-metal elements to tune the hydrogen adsorption free energy could lead to further improvements in catalytic activity.
Though the usual method of splitting water uses electricity, it can also be done using sunlight, said Jin. His team has demonstrated a proof-of-concept device that uses the cobalt catalyst and solar energy to generate hydrogen.
The photo above shows the photoelectrolysis cell using solar energy to split hydrogen and oxygen with the catalyst cobalt. The device is bathed in simulated sunlight.
Photo credit: David Tenenbaum