Montreal's CAE, a world leader in flight simulation technology, announced today that is has won contracts for nine full-flight simulators (FFSs) and other training devices and update services. The customers for the simulators are in China and in North America. CAE reports that the contracts are worth $120 million at list prices. The latest sales bring to twenty-two the number of sales so far in the company's fiscal year 2015.
The just-announced sales include five full-flight simulators to Shanghai Eastern Flight Training Centre; three full-flight simulators to an undisclosed airline in North America; and one B737NG full-flight simulator to an undisclosed airline in China. The Shanghai training centre will be operating twenty-three CAE FFSs with this latest purchase, CAE said.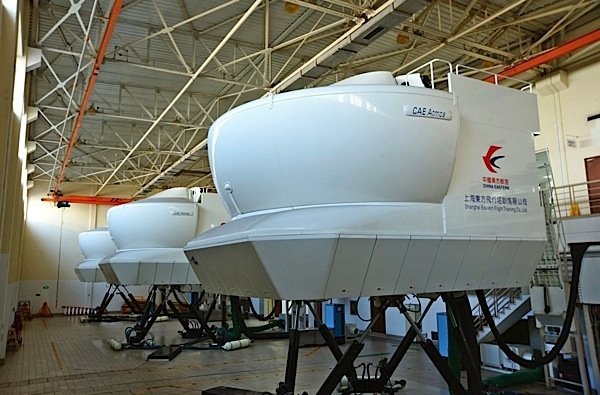 The company just announced its second-quarter results for fiscal 2015, showing a year-over-year revenue increase of 11 per cent, at $529.4 million. Profits were up 10 per cent over last year, at $42 million.
The biggest gains were in CAE's civil aviation division, up 10 per cent, followed closely by defence, where revenue increased 9 per cent. CAE president and CEO Marc Parent said that the company had made "important progress" in its solutions strategy by winning an agreement from Japan Airlines to conduct all of its pilot training at an upcoming CAE-JAL joint venture.
Defence customers included the US Navy and Air Force Reserve Command, as well as a military training centre in Saudi Arabia. Upgrade contracts were received from the German Air Force, the RCAF, the USAF, and the Royal Australian Air Force.
CAE also manufacturers simulators for the healthcare market, including ultrasound simulators and audiovisual solutions, as well as courseware and training services. Revenue in the healthcare division was up 37 per cent for the second quarter, to $24.3 million.
Performance in the second quarter was "in line with our outlook" according to Parent, who noted that the company was "encouraged" by the prospects for further gains in the healthcare market.
The civil aviation flight simulator market, according to some, is becoming increasingly commoditized. A report in FlightGlobal noted that the market is becoming more competitive, with ten or more manufacturers now vying for a share of a customer base that typically buys just forty–fifty simulators in a year. CAE, in business for nearly seventy years. has been the dominant player until now, with a 56 per cent share of the installed base of civil and military flight simulators as of 2013. CAE had sales of thirty-five FFSs in its fiscal year 2013. Since 2012, however, Lockheed Martin, L-3 Communications, and Rockwell Collins have entered the field.
Whereas simulator procurement decisions were formerly made based on the technical merits of the proposal, today those decisions are made "almost exclusively on price," said a spokesman for Flightsafety International quoted in the FlightGlobal piece.
Based on a 2013 world survey of the commercial simulator market done by FlightGlobal with CAE, there were 1,063 simulators in use in the industry worldwide, of which 596 were made by CAE.