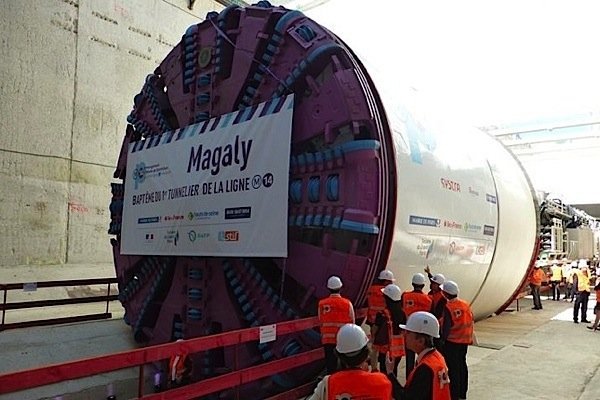 A consortium comprising SNC-Lavalin, Algoé and Transamo, operating as the Linéov Group, announced today that it has been awarded a contract to build and operate a new line of the massive Grand Paris Express transportation network. The 36-kilometre Line 18 will link Orly Airport in Paris with the city of Versailles, including ten stations and fourteen kilometres of viaduct line. It will be interconnected with a larger 200-kilometre, 68-station network. The first phase is scheduled for "commissioning" in 2024, the second phase in 2030.
Montreal-based SNC-Lavalin will act as adviser on project management and oversee all contractors and suppliers, according to a statement from the company. SNC-Lavalin has previously worked on major transportation projects in France, including tramways, rapid transit and a cog railway.
SNC-Lavalin vice president Eric Gratton said in a statement that this was the largest public transit project ever launched in France. The work will reinforce the company's expertise in the development of mass transit networks, he said. The company already has 1,200 "collaborators" working with public authorities in France on a range of infrastructure projects that includes transportation, health care, sports and industrial facilities. The group also manages sixteen airports in France.
SNC-Lavalin will also carry out a pre-project audit for a separate Paris metro line to be built by RATP and Aéroports de Paris.
The company did not give any details about costs or the value of the contract. However a French candidate in upcoming regional elections in Paris denounced the entire Grand Paris project as a "grand gâchis" or "big mess." The candidate said that costs for the massive project had now risen to 30 billion euros ($44.7 billion Canadian). For one-quarter of that amount, he claims, four existing transit lines could be renovated.
Photo credit, one of the tunnelling machines for the Grand Paris transit project: Pierre Monnier.