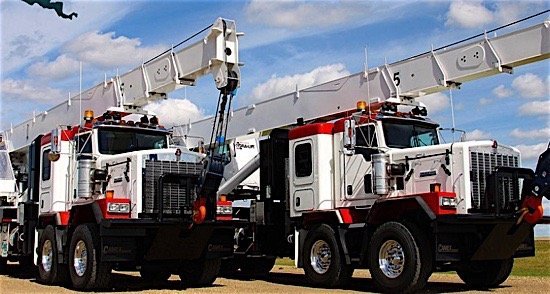 Manufacturing sales rose in 2016 after declining in 2015, Statistics Canada reports. Sales were up 1 per cent to $614.4 billion last year, reaching a record $53.5 billion in December. The highest previous monthly record was $53.1 billion in July of 2008. Ten of the twenty-one industries in the manufacturing sector reported gains in 2016, and sales were up in six of ten provinces, led by Ontario and British Columbia.
Sales of durable goods were up for the third consecutive year, rising 2 per cent to $328.5 billion. The increase was led by transportation equipment and the wood products industry. The transportation equipment industry posted the most important gain in 2016, up 5.8 per cent to $130 billion in 2016. Motor vehicle manufacturing sales rose 11.8 per cent from 2015 to $69.5 billion in 2016. Recently completed retooling of automotive plants, along with the introduction of more expensive production models, brought motor vehicle manufacturing sales to their highest level in January 2016 since March 2000.
Food manufacturing sales continued a long trend of increased sales, rising for the ninth consecutive year. Sales in the industry rose 5.3 per cent in 2016, reaching $101.1 billion.
Wood manufacturing saw its fifth consecutive increase, with sales rising 10.8 per cent, to $28 billion.
A slight rebound was seen in the petroleum and coal products industry. Sales had fallen by 52.3 per cent from July 2014 to February 2016, when sales were just $3.4 billion, Statistics Canada says. But in 2016 sales were up from March through December, reaching $5.2 billion.
Machinery manufacturing also saw a drop, declining for the second straight year. The 7.1 per cent decline, to $32 billion, was mainly attributable to lower mining and oil and gas field machinery sales in Alberta. Sales of chemicals in Alberta were up, however, one of the few industries in that province with higher sales in 2016. For the first time since 2004, chemical sales, at $13.2 billion, surpassed oil and coal sales.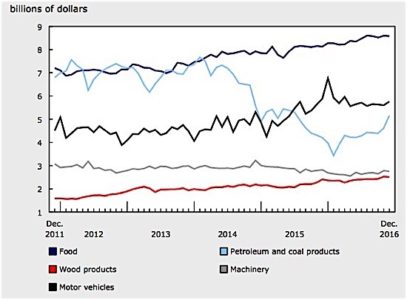 Non-durable goods sales, however, were down slightly, dropping 0.1 per cent to $285.9 billion. The largest contributors to the decline were petroleum and coal products.
Ontario led the provinces in manufacturing sales, with a 4 per cent rise, to $300.8 billion in 2016. A 9.6 per cent gain in transportation equipment sales, worth $105.6 billion, was the main contributor, accounting for 35.1 per cent of all manufacturing sales in the province. Ontario accounted for just under half (49.1 per cent) of all manufacturing sales in Canada in 2016.
In other measures of manufacturing performance, unfilled orders were down 4.1 per cent year over year to $87.7 billion in December, a large portion of them in aerospace products and parts. New orders increased by 6.8 per cent year over year, to $46 billion in December.
Employment in manufacturing declined 1 per cent to 1.7 million workers in 2016, though Ontario reported an increase of 0.9 per cent in employment. The largest decline was in Alberta, which lost 17.4 per cent of its manufacturing workforce. Nationally, the level of employment in manufacturing has remained relatively constant since 2009, with one in ten workers employed in the sector.