Many common devices, especially medical ones, that we take for granted today were once thought highly innovative, even futuristic. The US space agency NASA has been responsible for quite a few of these, including some types of artificial limbs, infrared ear thermometers, the so-called space blanket and the use of LEDs in medical therapies. Quite naturally, NASA also has a history of innovating in the area of transportation: anti-icing systems for aircraft, the use of safety grooves in highway surfaces, and the development of super-strong radial tires, to name a few.
It is not out of character for the space agency, therefore, to team up with a car maker—Nissan in this case—to collaborate on developing "autonomous vehicles." NASA uses them for exploring other worlds; Nissan wants to make them available to earthly drivers. Each can learn from the other as they tackle the "similar challenges" that face them.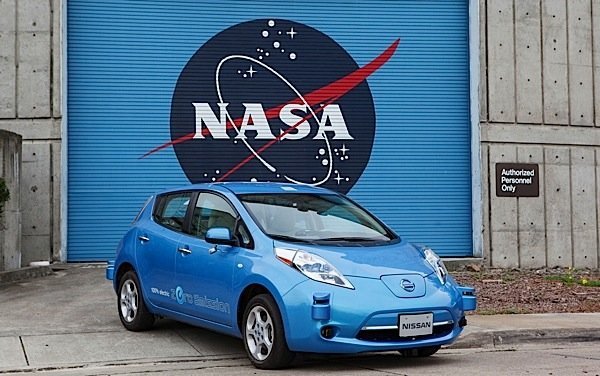 NASA and the North American arm of Nissan announced that they would work together on a five-year R&D project that will bring together NASA researchers from the Ames Research Centre in California and Nissan researchers from its Silicon Valley facility. The vehicles they develop could be used for planetary exploration and terrestrial road use. The first zero-emission test vehicle, a modified Nissan Leaf, is expected to be testing by the end of this year.
As reported in Wired magazine, the director of Nissan's Silicon Valley research facility spent ten years as a "senior scientist" at NASA. The two research facilities are very close to each other, and, Nissan says, "the timing is right" because they are ready to start testing their autonomous vehicles on city streets. Nissan has said it will have driverless cars on the market by 2020. The automaker can learn a lot from NASA's space rover vehicles, which operate remotely, but not very autonomously, in harsh conditions millions of miles from Earth. But it can also teach NASA what it has learned about navigating in terrain that is filled with variables and unpredictability, a city street. One environment is remote and hostile, but relatively predictable; the other is chaotic and dangerous.
The director of NASA's Ames Research Centre told Wired that they needed to add to the autonomy of vehicles like the Mars rovers