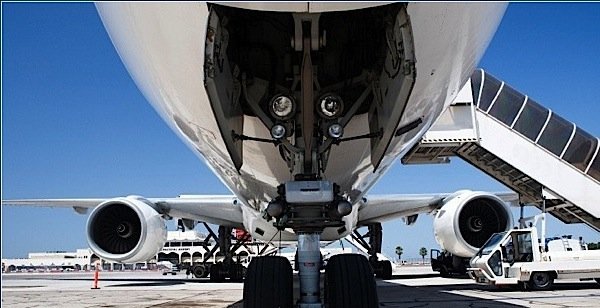 The opening of a new Cambridge, Ontario aerospace facility by Héroux-Devtek is part of the company's comprehensive capital investment plan, which will allow it to carry out its long-term contract obligations with Boeing, the company said. The 108,000 square foot facility will manufacture complete landing gear systems for Boeing 777 and 777X wide-body jetliners. The long-range, twin-engine jets have two main landing gear assemblages, each with a six-wheel bogie. According to the Ontario government, which is assisting the company with funding, the Boeing contract represents the first time Héroux-Devtek has built a complete landing gear system for a large commercial aircraft.
The president of Héroux-Devtek, Gilles Labbé, called the Boeing contract "the most important landing gear contract in Héroux-Devtek's history." The company is already the third-largest landing gear company in the world. The high level of automation at the new facility gives the company a competitive advantage, he said. It also opens the door to future landing gear work with other customers. The expansion in Cambridge adds approximately forty highly skilled new jobs, boosting the company's Ontario workforce to 250, most of them in the Waterloo-Cambridge area, which Labbé described as the company's "centre of excellence in the production of mid-to-large-scale, complex landing gear components." The facility can be expanded by another 100,000 square feet if needed. Héroux-Devtek already operates a landing gear facility in Kitchener.
The total investment in the new Waterloo plant will be $54.2 million over five years. The Ontario government is contributing $7 million. The Minister of Economic Development, Employment and Infrastructure, Brad Duguid, called the announcement "great news for Ontario's aerospace sector." It demonstrates the importance of "targeted, strategic investments" in strengthening "key" advanced manufacturing industries in Ontario.
Aerospace is an industry that directly employs 17,000 people. Fifteen of the top twenty-five global aerospace companies have operations in Ontario, the ministry says. Over 80 per cent of production in the sector is exported. Annual revenues from aerospace are $5.3 billion. The industry spends $462 million annually in research and development.
The global commercial aviation industry is in a period of "unprecedented demand" for new aircraft. It is estimated that 36,000 new planes, worth more than $5.2 trillion, will be needed over the next two decades. Boeing's order book for the B-777 and B-777X currently has a backlog of 550 orders, according to Héroux-Devtek.