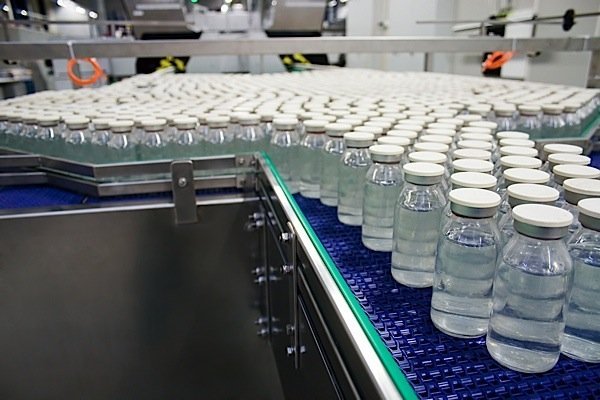 Canada's exporters had their best single month in more than eight years in June, and the first increase in exports after five consecutive monthly declines, Statistics Canada reports. Exports were up 6.3 per cent, including 4.8 per cent by volume and 1.5 per cent on prices. The trade deficit between Canada and the rest of the world shrank to just $476 million, dropping about 85 per cent from the month before when it was $3.4 billion.
Naturally, the bulk of Canada's exports went to the United States. Here the increase was even higher: 7.1 per cent, to $34.2 billion, leading to a trade surplus of $4.7 billion in Canada's favour for the month of June. Shipments to the rest of the world also rose a healthy 3.8 per cent, to $10.4 billion. This lowered the trade deficit between Canada and countries other than the US from $5.5 billion in May to $5.2 billion in June.
Nine of the eleven categories of goods exported had large gains. Consumer goods led, with an increase of 17.2 per cent to a record $6 billion. This includes pharmaceuticals and medical products which gained 41.7 per cent; seafood products, up a surprising 128.9 per cent; and miscellaneous goods and supplies, up 17.1 per cent.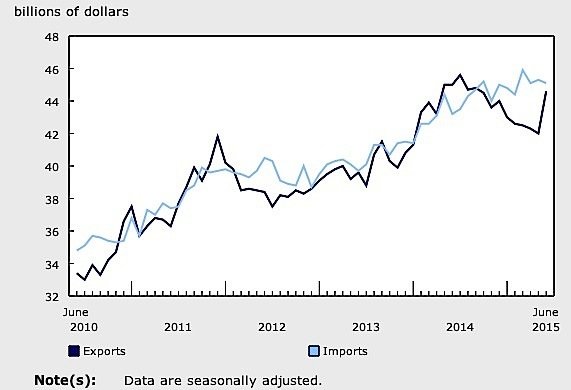 Metal products, mainly precious metals and alloys, rose 10.8 per cent to $5.1 billion. Energy products, including crude oil, crude bitumen and refined petroleum products, increased in price but fell by volume. The value of energy exports was $7.9 billion, up 3.7 per cent.
Forestry products and building and packaging materials gained 9.2 per cent, mostly on volumes, to $3.4 billion. Pulp and paper stock led the growth in this section.
On the other side of the ledger, imports fell in seven of the eleven sections, to $45.1 billion. The biggest declines in imports were in aircraft and transportation equipment, down 19 per cent, and in energy products, which dropped off by 10.4 per cent to $2.7 billion. Crude oil and crude bitumen imports fell 17 per cent.
Imports of electronic and electrical equipment and parts rose 3.3 per cent to $5.2 billion in June, largely on the strength of communications and audio and video equipment.
Metal and non-metallic mineral products imports grew 3.6 per cent to $4.0 billion.
The June performance, with strong growth in the non-energy sector, is seen as a positive but inconclusive sign that the economy is finally emerging from the oil-related slump that has held it down for most of the year. Economists such as TD's Diana Petramela see reason to be optimistic in the low Canadian dollar and improving US economy.