Almost every sector of Canada's economy expanded in the second quarter of the year, Statistics Canada reports. The annualized growth rate of 3.1 per cent was greater that had been forecast by the Bank of Canada, which had called for 2.5 per cent growth. It was the fasted pace of growth in almost three years. The US economy had even more impressive growth for the quarter (April to June), rising 4.2 per cent.
Statistics Canada says that household spending has continued to increase, rising 0.9 per cent for the second quarter. Spending on goods, especially durable goods such as cars and trucks, was up 3.5 per cent. Consumers bought more household furnishings, equipment and services, as well as food and beverages, clothing and footwear.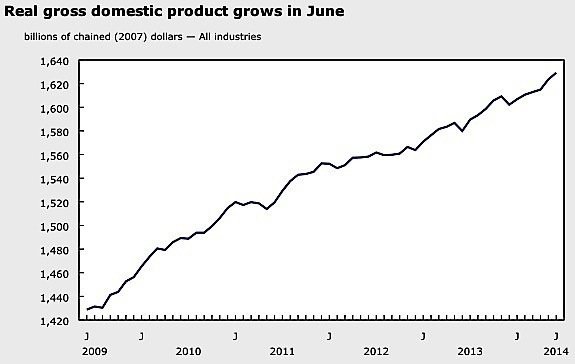 Housing demand increased, with investment in housing growing by 2.9 per cent. Both new construction and renovations saw higher spending.
Businesses invested more in machinery and equipment such as trucks and buses, but less in industrial equipment and machinery in the second quarter.
In the resources sector, the mining industry, including copper, nickel, lead, zinc, potash, and iron ore, saw growth of 4.7 per cent. Oil and gas extraction grew 1.3 per cent.
Construction growth came in at 0.9 per cent, largely due to more residential building.
Manufacturing output declined 0.3 per cent in June. A drop (1.1 per cent) in the manufacture of durable goods such as transportation equipment and machinery outweighed the rise (0.8 per cent) in production of non-durable goods, mainly chemicals.
Agriculture and forestry also fell because of lower crop production.
Exports rose significantly, up 4.2 per cent from April to June. Exports of cars, light trucks, farm and fishing products, forestry products, building and packaging materials all rose. At an annualized rate of 17.6 per cent, it was the largest increase in exports of goods since the third quarter of 2011.
Imports were also higher, rising by 2.7 per cent. The biggest imports were in cars, consumer goods, and chemical, plastic and rubber products.