A rebound in the manufacturing sector helped Canada's economy to grow by 0.5 per cent in January. The growth went a long way to restoring confidence that December's decline of the same amount was an anomaly. Before the December decline, which analysts now say was really the result of exceptionally bad weather, the economy had had five consecutive months of growth.
Statistics Canada reports today that the goods producing industries grew by 1 per cent in January, with the somewhat unpredictable manufacturing sector's output rising by 2 per cent. Manufacturing had slipped badly in December, dropping 1.9 per cent. In the durable goods sub-sector of manufacturing, the growth was even stronger, coming in at 2.5 per cent. Computer and electronic products, and machinery manufacturing were particularly strong. Non-durable goods—food, beverage, tobacco, plastic and rubber products—also posted strong gains of 1.5 per cent.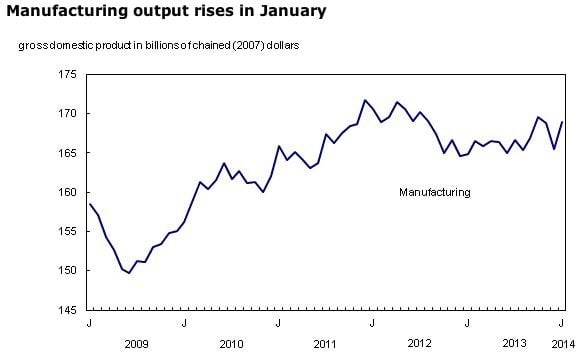 In resources, mining, quarrying and oil and gas extraction together increased 1.2 per cent in January. This sector had also declined in December. The pick-up in resource industries translated into stronger output from the support activities. which rose 5.8 per cent, as both drilling and rigging services were up.
Residential construction and repair work, as well as engineering construction, saw growth of 0.7 per cent in January.
Both retail and wholesale trade made gains, growing 1.3 per cent and 0.7 per cent respectively. Cars and car parts, building materials, garden equipment supplies and furniture made "notable" gains in the retail sector. Wholesale gains were mostly in personal and household goods, as well as building materials and supplies.
Smaller gains were made in the public sector, which includes education, health and public administration (up 0.1 per cent) and in transportation and warehousing services, also up 0.1 per cent.
In other economic news, Statistics Canada reports that average weekly earnings rose 3 per cent in January, measured year over year, to $925. The increase is well above the inflation rate for the same period. The increase in average weekly earnings was strongest in the wholesale trade industry, followed by the construction industry, retail trade, administrative and support services, and professional services. The wage growth is due to changes in the composition of the workforce, occupation and level of experience, as well as average hours worked, according to Statistics Canada.