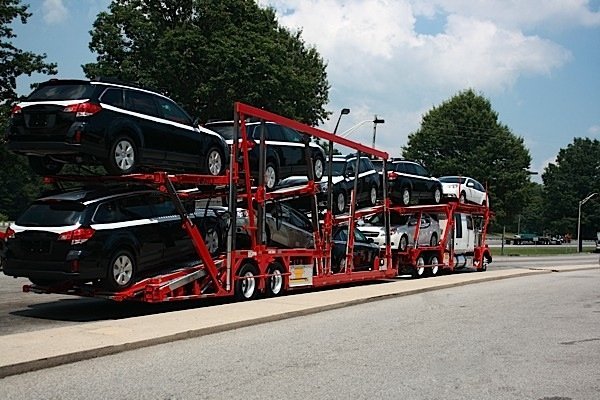 Stronger exports were enough to grow Canada's economy by a healthy 2.3 per cent in the third quarter, though a worrisome contraction of 0.5 per cent in September has economists talking about a loss of momentum. Statistics Canada reported today that exports for the third quarter were up 2.7 per cent, following an increase of 0.5 per cent in the second quarter. Annualized, the rate of increase in exports was 9.4 per cent. Imports of goods and services declined in the same period.
Among the strongest exports were motor vehicles and parts, which rose by 5 per cent, especially passenger cars and light trucks, up 6 per cent. Exports of consumer goods were up 8.7 per cent while crude oil and bitumen exports rose 5.7 per cent.
Household spending was also up, increasing by 0.4 per cent in the months from July through September. This followed a gain of 0.8 per cent in the second quarter. Durable goods accounted for the bulk of household spending, increasing by 2.3 per cent.
Investment in housing also grew. Business investment in residential buildings grew 0.6 per cent with new construction gaining 3.2 per cent. Renovations declined by 1.6 per cent, as did investment in non-residential structures. This was the fourth consecutive quarterly decline in non-residential structures.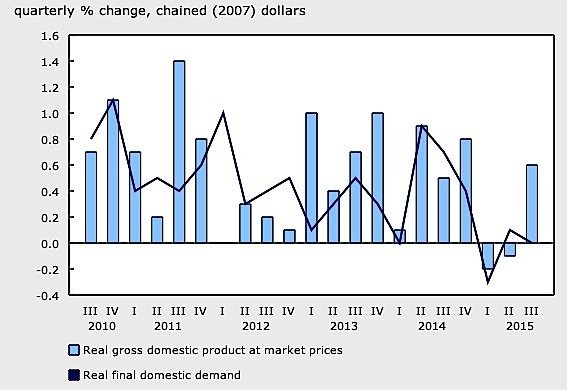 Investment in industrial machinery and equipment, however, was down 3.3 per cent, a reflection of shrinking spending in the energy sector. That sector was responsible for 0.4 percentage points of the monthly drop in GDP. Output was down as an August fire at a Syncrude oil sands facility halted production for the month of September.
Though the economy was able to "snap back to life" in the third quarter, thanks to growth from the expected sources of exports and the low Canadian dollar, there is "good reason to believe" that the relatively strong third quarter growth will not be repeated, according to TD economist Brian DePratto. Looking into 2016, the economist sees "moderate" growth of around 2 per cent per year, with exports taking up more of the burden, and the country's housing market taking "a breather." Business investment will continue to face the two headwinds of low oil prices and a weak loonie.