Transportation workers in Canada have praised the thoroughness of the Transportation Safety Board (TSB) report into the Lac-Mégantic train disaster, while accusing the government of failing to acknowledge its responsibility in the matter. It also urges the government to act quickly to improve safety. The Union of Canadian Transportation Employees released a statement applauding the "significant recommendations" concerning rail safety and safety management systems contained in the TSB report. The report concluded that Transport Canada needed to dedicate more resources to inspections and safety audits to ensure industry compliance with regulations.
The union is concerned, however, that Transport Canada will not implement the TSB recommendations in a timely fashion. "Historically Transport Canada has taken years to implement some TSB recommendations while others have still not been implemented at all," the statement said. It went on to say that the minister responsible, Lisa Raitt, "was quick to point the finger" at others, but failed to acknowledge that the TSB report placed the responsibility "directly at Transport Canada's door."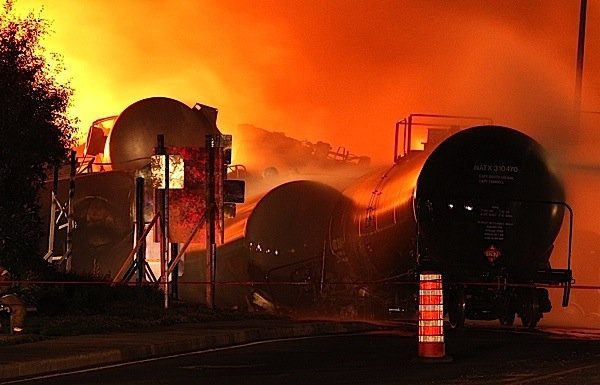 The president of the transportation employees union, Christine Collins, would like to see the TSB's powers increased. "They determine the cause of accidents; they determine the faults and they make recommendations. I believe we need to give TSB the authority to implement these recommendations when other government bodies fail to act. Canadians need to know that their safety is the #1 priority."
The importance of greater safety in the shipping of oil by rail will only increase as more and more companies turn to rail as an alternative to pipelines. Both Canadian National and Canadian Pacific railways are reportedly becoming more involved in shipping oil to refiners and other plants in places where there is no pipeline access. Potential markets include the Gulf Coast, California and the US Midwest. CN is reportedly ready to move as much as 200,000 barrels of bitumen per day from the Albert oilsands to these markets, as well as to eastern Canada.
In the US, oil shipments by rail have grown to more than one million barrels a day, much of it from the Bakken formation of North Dakota, which is where the Lac-Mégantic train originated. Crude oil extracted from Bakken Shale has been found to be more volatile and to contain more combustible gases than other crude oils, a fact that contributed to the magnitude of the disaster in Quebec.
In the US, meanwhile, the government has announced that thousands of railroad tank cars known as DOT-111s must be phased out or retrofitted to make them safer within two years. Canada is also in the process of phasing out the older tank cars. There are currently about 80,000 DOT-111 tank cars built before 2011 and transporting oil, ethanol and other flammable liquids. Another 23,000 cars were built since 2011 with more crash-resistant features.