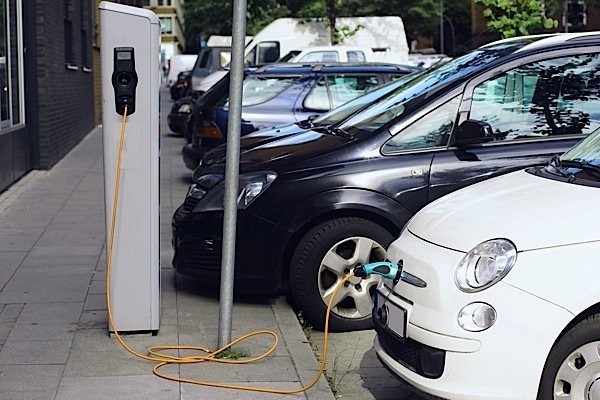 Charging an electric car battery will become a little more convenient for the 12,000 or so EV drivers in Canada when IKEA adds a dozen new EV charging stations this year. The retailer announced at the Climate Summit of the Americas in Toronto on July 9 that it will install free charging stations at each of its twelve stores within the next six to eight weeks. The 60-Amp chargers will be available on a first come, first served basis to IKEA customers. It marks the first national roll-out of charging stations by a retailer in Canada.
Other retailers, including Tim Hortons, Rona, and a rotisserie chicken chain in Quebec have installed EV charging stations on a pilot basis. A number of hotel chains, including Fairmont, Best Western and Marriott also offer charging for guests. Retailers tend to see the offering of the service as a way of attracting customers.
There are currently about 2.500 public charging stations in Canada, the largest share (600) being in Quebec, followed by British Columbia and Ontario. In Quebec, Hydro Quebec's Electric Circuit program helps EV drivers find charging stations.
Ontario provides about 400 public charging stations. In the GTA, Metrolinx installed ten EV charging stations at GO Transit stations, also on a pilot basis. Information about them is available at the GO Transit website.
Electric car maker Tesla operates its own network of over 460 Supercharger stations, just over a dozen of them in Canada, exclusively for its own Model S car. It claims that its superchargers are the fastest in the world, able to give a car enough charge to travel 270 kilometres in just thirty minutes. compared to just sixteen kilometres at a regular public charger.
The Tesla supercharger is a version of the Level 3 fast charger, which typically operates at 60­–100 Amps with 480 Volts. Level 3 chargers can fully charge an average EV in under one hour. In contrast, a Level 1 charger operates from a standard household 15 Amp breaker on 120 Volts. Charging this way is usually done overnight. Level 2 chargers essentially double the power and halve the time of a Level 1 charger: 220/240V at 30 Amps, and a charge time of four hours or less.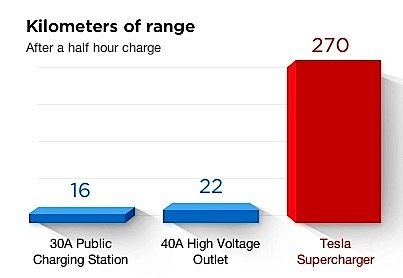 A group comprising Electric Mobility Canada (EMC), CAA and Plug N Drive are reportedly creating a Canada-wide charging map that will include all public charging stations in the country. There are also numerous apps available to help consumers find charging stations. EMC says the map project is the solution Canada's EV drivers have been waiting for, as it is difficult to find charging stations.