Canada's manufacturing industry experienced a "solid rebound" in June, the second quarter of 2014 ending on a "positive note" with the strongest output and business growth so far this year. That is the conclusion of the latest monthly RBC Canadian Marketing Purchasing Managers' Index ( RBC PMI). The index rose to 53.5 from the nine-month low of 52.2 in May. The growth reflects increased output, new orders, employment growth and changes in inventories and delivery times, according to RBC.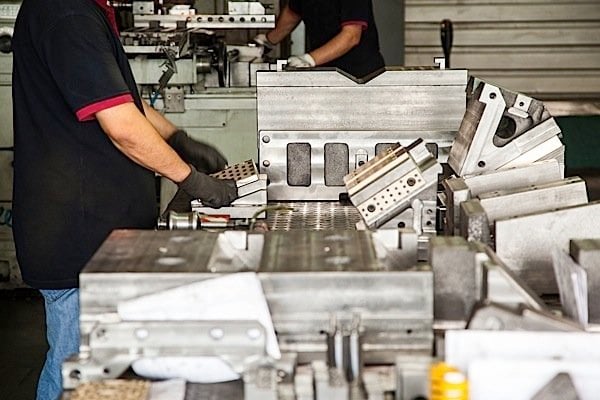 Manufacturers surveyed said that greater domestic demand was responsible for much of the business growth in June. Growth in exports was reportedly only marginal, mainly to the United States. Staffing levels increased for the fifth consecutive month in the manufacturing sector, with the strongest growth in Quebec and Ontario.
Greater production requirements mean greater input purchasing, and that too was at its highest level so far this year. Input prices were higher as well, for the twenty-third consecutive month. This was attributed by some manufacturers to depreciation of the Canadian dollar against the US dollar pushing prices for raw materials higher.
RBC senior vice-president and chief economist Craig Wright commented that he expected the favourable growth conditions experienced in June to "further improve going forward supported by a strengthening global economy, increases in external demand for domestic goods and a depreciating Canadian dollar."
 Exports were up in May
Statistics Canada, meanwhile, reports that Canada's exports in May reached their second highest value on record. Volumes were up 4.2 per cent, to a value of $44.2 billion in May. Of that, $32.5 billion went to the United States, led by passenger cars and light trucks. Motor vehicles and parts exports rose 9.8 per cent, the fourth consecutive monthly increase.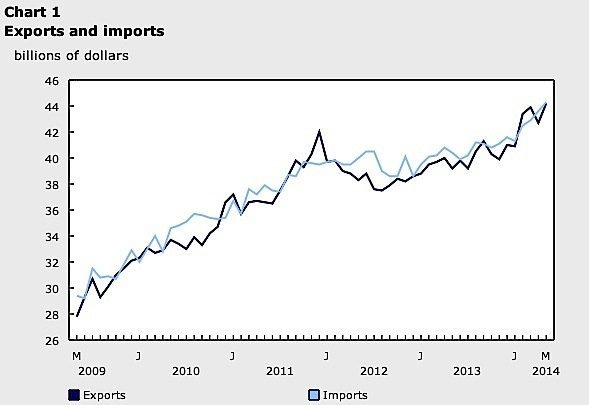 Exports to countries other than the United States grew by 8.3 per cent, to $10.7 billion. As a result, Canada's trade deficit with the rest of the world fell from $961 million to $152 million.Consumer goods exports reached a record $4.8 billion in May, led by pharmaceutical and medicinal products, which were up 41.4 per cent.
Imports also increased, the largest by value being in the auto and auto parts industry. Imports of engines and auto parts, passenger cars and trucks was up 6.7 per cent to $7.8 billion. Imports of metal ores and non-metallic minerals grew 44.5 per cent in May. Aircraft and other transportation equipment imports rose 12.7 per cent, to $1.4 billion.
A drop in natural gas imports contributed to the first decline in energy products imports in five months. Energy products imports fell 13.7 per cent.