Dublin-based Macquarie AirFinance, a lessor of aircraft to international airlines, has signed a firm purchase agreement for forty Bombardier CS300 jets, Bombardier Commercial Aircraft announced today. Macquarie has taken options for an additional ten of the aircraft. Delivery is to begin in 2017, with final deliveries in 2019. The aircraft will be leased to Macquarie's client airline operators. The order is estimated to be worth about $3 billion.
Bombardier Commercial Aircraft president Mike Arcamone called the order a "strong endorsement" of the CS300, and said that the company anticipates momentum to build for sales of the "100 per cent new" jetliner. The Macquarie order raises the total of firm purchase orders to 243. Bombardier has said it intends to have 300 firm orders by the time the CSeries enters service, now expected to be later in 2015.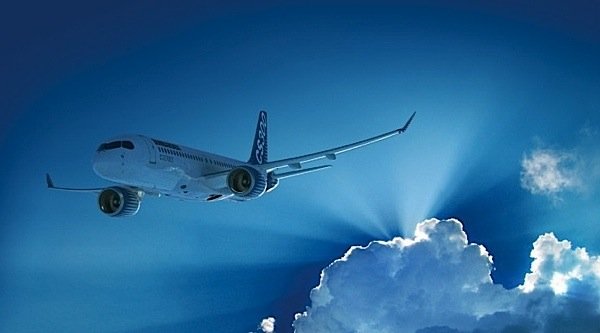 Bombardier VP of sales, Ray Jones, said the CSeries is "tailor-made" for operators like Macquarie. A Macquarie spokesman said that the Bombardier CS300 was the only type of aircraft "optimized for the upper end of the 100– to 150-seat market."
Bombardier claims that the CSeries offers a 15 per cent cash operating cost advantage, and a 20 per cent fuel burn advantage, as well as an "unmatched" environmental and noise footprint. However, flight testing of the aircraft has been delayed several times due to problems that have included engine failure in a ground test last May. Flight tests resumed in early September. To date, according to Bombardier vice-president for the CSeries, Rob Dewar, the aircraft has undergone 370 hours of flight testing, out of a planned 2,400 hours.
An analyst at Desjardins Securities wrote that "certain customers" may be waiting for guaranteed performance levels before committing to purchasing CSeries planes.