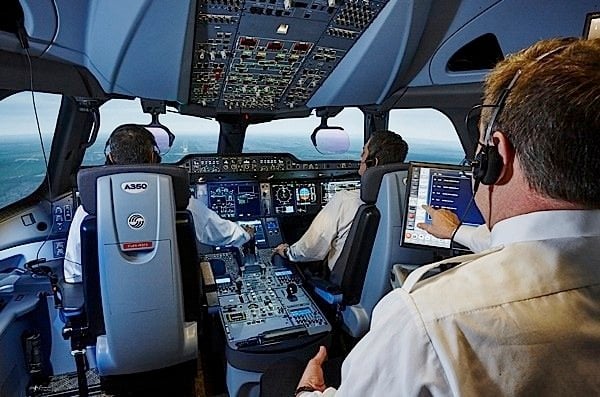 CAE, the Canadian manufacturer of flight simulators and flight training programs, has announced that it signed training solution contracts with a number of airlines and aircraft manufacturers. The contracts are reportedly worth $130 million. They include six full-flight simulators (FFS): three Boeing 737 MAX and one Boeing 777 FFS; one Airbus A320 FFS, and one Boeing 737 NG FFS for a Russian aviation equipment company. Also included are two Integrated Procedures Trainers and an A320 Airbus Pilot Transition Trainer. One of the contracts, with Airbus Asia, will involve opening a new training centre in Singapore. The sale of six FFSs brings the total to fifteen for the company's fiscal year 2016.
In a statement, CAE said that the diversity of the new agreements highlights the range of the company's training equipment and programs, covering the career life cycle of pilots "from cadet to captain."
According to the Aerospace Industries Association of Canada (AIAC), Canada's aerospace industry is a global leader in flight simulation and training, with Canadian companies at the forefront of design and manufacture of FFSs and flight training devices (FTDs).
Though none of the contracts announced today is for military training, CAE is listed in a new Research and Markets report on global military aerospace simulation and training as one of the main vendors in the world. The military market is forecast to grow by 1.5 per cent each year until 2019. Training in a simulator is said to be 5–20 per cent less expensive than training "live," as well as being safer for trainees. According to the report, approximately one-third of military pilot training is now done on a simulator. Cost savings by military operators with aging fleets is said to be a key driver for this market. Training on a simulator can extend the life of an aircraft, saving money.
CAE has more than 8,000 employees worldwide, with training locations in thirty-five countries. The company claims to have the world's largest installed base of flight simulators.
Photo credit: CAE