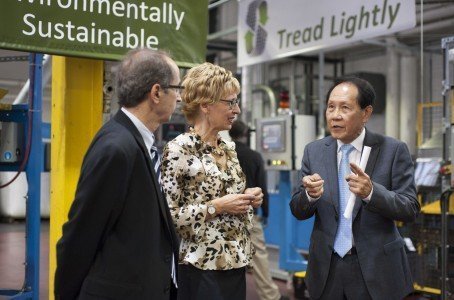 A Waterloo company that won a prestigious TiE50 award for entrepreneurship in technology in 2014 has now opened its first facility. The "groundbreaking" company was established by the University of Waterloo to commercialize its proprietary method of recycling scrap tires. That method, invented by a professor in the chemical engineering department at Waterloo, turns scrap tire rubber into a material called Tyromer-TDP, for tire-derived polymer. The Waterloo facility is the first of its kind and will showcase the potential impact its devulcanization technology can have on tire recycling in Ontario, according to a statement.
In North America alone, 300 million scrap tires must be dealt with each year, according to Tyromer CEO Sam Visaisouk. This amounts to 10 billion pounds of tires. The Tyromer process gives the world a "socially responsible and environmentally sustainable" solution for the management of scrap tires. In a 2014 interview, Visaisouk drew a distinction between simply recycling tires and what his company does. Tyromer is not in the tire recycling business, but is rather a material manufacturer that uses rubber derived from scrap tires to produce a new form of rubber for reuse in manufacturing other goods.
Explaining the process, Visaisouk said that no chemicals are used in the devulcanization process. The conversion, which is accomplished by thermal mechanical extrusion, is 99 per cent efficient. The process reverses vulcanization, in which rubber is mixed with sulfur at high temperature to create a hard, durable rubber suitable for tires. The Tyromer process reverses this so that the rubber can be used again. It can be used to treat other forms of vulcanized rubber, such as EPDM (ethylene propylene diene terpolymer), the sturdy synthetic rubber used in the roofing industry among others.
The rubber devulcanization technology is licensed to Tyromer by the University of Waterloo. The company will in turn license the technology and manufacturing system, as well as partner with "synergistic entities" to accelerate growth.