In its most recent statement on the Ontario economy, RBC Economics took a pessimistic tone in general, saying that despite promising signs earlier in the year, "we are still waiting for Ontario's economy to switch into a higher gear." The gear metaphor is apt. As the report goes on to say, Ontario has been missing out on the auto sector's boom. In spite of record sales in North America, production of cars and trucks in Ontario was actually down 7.9 per cent in the first eight months of the year. The statement says that Ontario is losing ground to US southern states and Mexico, and that this could become a permanent reality "unless investment in capacity starts to trend higher."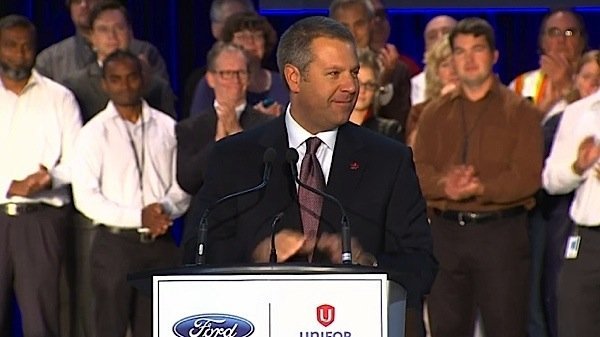 Today, the president of Unifor, the union that represents auto workers, says that the auto industry is "finally on the move" after Ford Motor Company announced that it will spend $700 million on its Oakville assembly plant. Jerry Dias, speaking at the news conference announcing the investment, said that his union had fought hard for the investment, which solidifies the future of the plant for a decade or more. There are about 2,800 workers at the plant, but every job in the plant supports six or seven jobs outside, Dias said.
The investment will allow the plant to expand and improve its manufacturing capability and meet that rising global demand for the cars it makes. The president and CEO of Ford Canada, Dianne Craig, said that the new technology will make the plant more flexible and efficient, on the "cutting edge" of developments in the global marketplace. If consumers suddenly shift their buying habits, the company will be able to switch its  production mix without idling a plant. About 85 per cent of Ford's vehicle are built on nine global "platforms."
This investment is especially good news for the auto industry, which has not seen a major investment like it since last March, when GM announced a $250-million investment in its Ingersoll assembly plant. Ontario is the only province or state in which five automakers operate: Ford, GM, Chrysler, Toyota and Honda.
The Ford Oakville assembly plant currently makes the Ford Edge, Flex, Lincoln MKX and Lincoln MKT. It is expected that one or more new models will be added as a result of the new funding.
Both the federal government, through its Automotive Innovation Fund, and the Ontario government, are contributing to the Ford investment. The combined government share will be $142.5 million. This type of government investment is now widespread in the increasingly competitive battle to lure auto makers. The state of Michigan recently became a "right to work" state, meaning that union membership is now optional. Shortly after Michigan's move, Ford and Chrysler announced investments of about $1 billion in the state.