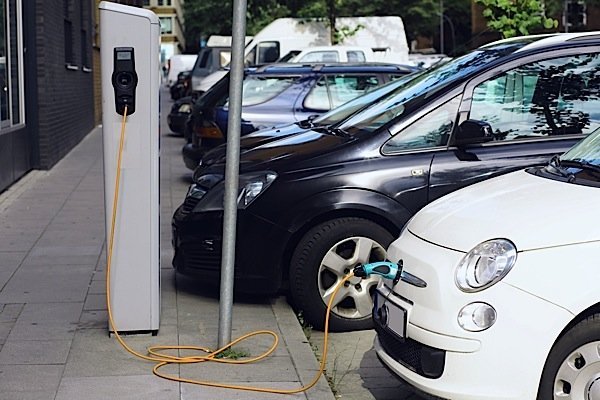 Canadians have not switched to electric vehicles (EVs) in a big way. In 2015, total car sales in Canada set a new record: 1.898 million vehicles sold. Compared to that number, the tiny number of EVs now on the roads in Ontario, 5,800 units, is almost insignificant, especially given that the Ontario government has had an incentives program in place since 2010. But the government is trying again, increasing the rebates program in a new effort to persuade more Ontarians to put gas behind them and go electric. Premier Kathleen Wynne announced the new incentives in Toronto today.
The new program increases the amounts available: the previous range of $5,000–$8,500 is now increased to $6,000–$10,000. Additional incentives include $3,000 for vehicles with more powerful batteries, and $1,000 for vehicles with five or more seats. The total incentive possible is $14,000.
The small but committed number of drivers who have embraced EVs have not been deterred by so-called range anxiety and the relatively high prices. A BMW two-seater Smart car is one of the more affordable, starting at $26,990. Other models in that price range include the Nissan Leaf ($32,698), the KIA Soul ($34,995) and the Ford Focus Electric ($29,170). It is cars in this range that are likely to see the greatest advantage from the incentives program. The program puts a cap of $3,000 on the rebate available for the most expensive cars, priced at $75,000–$150,000.
Another drawback for would-be EV drivers is the lack of infrastructure available to support them, and the government has made that infrastructure a priority. Last December, the government announced a $20 million fund to establish a network of charging stations in Ontario. The intention is to create a network of fast-charging stations along highways, in condominium and apartment buildings, at workplaces and so on.
In announcing the program, Premier Wynne said that transportation emissions pose one of the province's greatest challenges in achieving our "ambitious" greenhouse gas reduction targets. To make a real difference, it will be necessary to convert many more average drivers to "enthusiasts," and that is what the incentives are supposed to do.
At GM we believe the future of personal transportation will be increasingly electric and connected, with great benefit for our customers and society. Ontario's enhanced plug-in vehicle incentives, part of its Climate Action Plan, establish the province as a leader in supporting consumers who are considering new electric vehicle models but remain challenged by the higher costs of fast evolving battery and EV technologies.
The Minister of Transportation commented that Ontario must embrace evolving technologies like EV and fuel cell so that we can develop the next generation of EVs "right here, in the Silicon Valley of the North."
The president of GM Canada, Steve Carlisle, said that his company believes the future of "personal transportation" will be increasingly electric. He said that Ontario was a "leader" in supporting consumers who want to buy EVs but are challenged by the higher costs.
And the interim CEO of Pollution Probe said that his group was "thrilled" to see Ontario taking a leadership position on EVs.
Whether the extra few thousand dollars be enough to get more people buying EVs remains to be seen. Gas prices are very low these days, and that works against the plan. Even when gas prices were much higher, consumers did not flock to buy EVs. The government seems to be hoping that a saving of $14,000 on an EV priced in the high $20,000s will be enough to get more Ontarians interested.