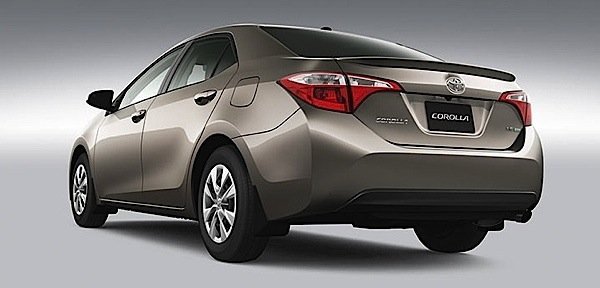 Is Mexico's gain Canada's loss? Not necessarily, some observers say. While it looks like bad news for Ontario that Toyota is pulling production of the popular Corolla from its Cambridge, Ontario assembly plant and moving it to a new $1 billion plant in Mexico, the move has to be seen in a bigger context. Toyota is the world's largest auto maker, and this decision is part of a global strategy designed to keep it that way. That production strategy, called the Toyota New Global Architecture (TNGA) aims to make the company leaner, smarter and more focused in its production. This move takes advantage of cheaper labour costs in Mexico, as well as anticipated rising demand for cars like the Corolla in that market.
The president of Toyota Canada, Brian Kinrock, has emphasized that the move is a positive one for the 8,700 Toyota employees in Ontario because it will make the company more competitive. He also said that higher-end vehicles will continue to be built at the Ontario plants. The Lexus RX 350 and 450h crossover vehicles and the RAV4 are currently built here, and production is expected to continue. Kinrock said in the Hamilton Spectator that though the Corolla will move, the company will put in another "higher value" vehicle. An announcement regarding the replacement vehicle will be made later this year, he said.
Ontario's Economic Development Minister, Brad Duguid, meanwhile, told reporters at Queen's Park that Toyota had confirmed the Ontario "job footprint" would remain the same.
Unifor leader Jerry Dias is less sanguine about the situation, calling the move to Mexico an irreplaceable loss for Ontario. Even if the company replaces the Corolla, the top-selling car in North America, with a higher-end vehicle, the volume will not be there, he said. He called the Toyota decision "an incredible disappointment." Toyota's Ontario plants are not unionized.
In its press release announcing the move, Toyota emphasized that its investment in Mexico, and another in China, exemplify its new, more competitive approach, with "greatly reduced" initial investment, improved efficiency and greater flexibility. Production in North America, it said, is being realigned according to vehicle body type and size. The Corolla will become a southern US and Mexican product. The company will then focus on mid-sized, higher-value vehicles along with its Kentucky and Indiana facilities. It does not mention Ontario.
The Mexico plant is the first to be built since Toyota suspended all new plant construction more than three years ago. During that time Toyota has worked on improving capacity utilization at existing facilities, bringing it up to more than 90 per cent, it says. The company also says that new "simple and slim" plant costs, including construction and equipment, will be 40 per cent lower compared to 2008 costs. The Mexico plant will also be the first Toyota plant built according to TNGA.