Calgary's Pembina Pipeline Corporation said it will expand its diluent handling facilities in Fort Saskatchewan, Alberta by proceeding with construction of the Canadian Diluent Hub (CDH). The company plans to build a large condensate and diluent terminal to augment facilities at its Heartland Terminal. The expansion will include above-ground storage space for 600,000 barrels. There will also be "multiple" pipeline connections, both inbound and outbound, as well as associated pumping and metering facilities. There are also plans to construct rail facilities and underground storage capacity. The expansion of the terminal facilities is estimated to cost $350 million.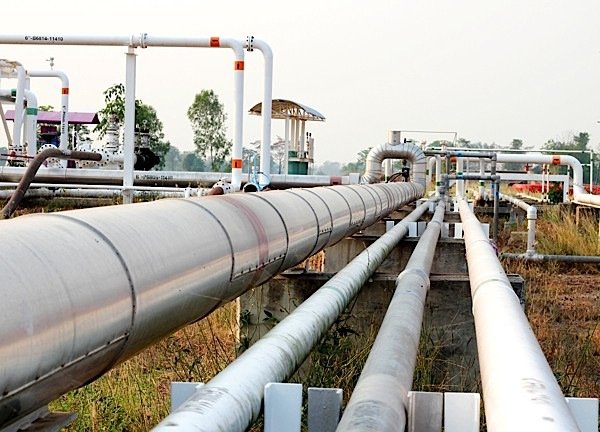 Diluent is a thinning agent used to dilute thick crude oil. Diluents are composed of a mixture of organic compounds containing the lighter hydrocarbons naturally found in petroleum. Large amounts of diluent are needed to thin the heavy crude oil that comes from the Alberta oil sands, which is too thick to be pumped easily by pipeline. Similar products found in natural gas are referred to as condensate. Hydrogen and carbon make up the basis of almost all petroleum products refined from crude oil such as gasoline, jet fuel, asphalt and the petrochemicals that go into many consumer products.
According to energy giant Enbridge, diluent capacity is already stretched, with Alberta unable to make enough of it to handle growing oil sands production. Enbridge says that Canada's oil production is expected to double by 2020, meaning supplies of diluent will have to keep pace.
Pembina's existing diluent facilities in Fort Saskatchewan can handle approximately 20,000 barrels per day of rail import capacity, 500,000 barrels of underground diluent storage and approximately 180,000 barrels per day of existing delivery capacity to third-party diluent delivery pipelines.
The light hydrocarbons that collectively are referred to as diluent are condensed from natural gas wells (hence the name "condensate,") or separated from other hydrocarbons at refineries that process crude oil into gasoline, jet fuel, diesel fuel and other petroleum products. Some of the hydrocarbons typically used as diluent are produced in Alberta – but not enough to meet the needs of growing production from the oil sands. With Canadian oil production expected to nearly double by 2020, increased supplies of diluent are needed to transport the thick Canadian crude to refineries.

Enbridge
The proposed facilities will accommodate contracted diluent supply volumes from the company's previously announced field gas plant, pipeline and natural gas liquids, a statement from Pembina explains.
Pembina says that the CDH will offer customers a number of benefits, including direct access to a growing diluent and condensate supply of varying qualities and grades, direct connectivity to third-party market terminals and pipelines, and access to rail facilities for future export connections.
"This development, combined with our existing asset base, will allow us to provide our customers with a reliable and cost-competitive supply of not only condensate, but other diluents such as light sweet crude, synthetic crude oil and custom diluent blends," said Paul Murphy, Pembina's Senior Vice President, Pipeline & Crude Oil Facilities.