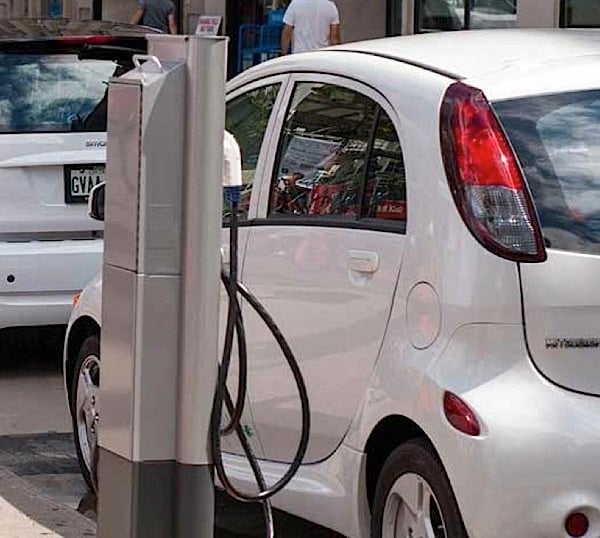 A group that advocates for the adoption of electric vehicles in Canada staged its first Electric Vehicle Day today at Queen's Park in Toronto. A range of electric vehicles cars was available for members of the government and political parties as well as the public to test drive. The group, Plug'n Drive, says that electric cars have a major role to play in helping Ontario reach its goals in reducing greenhouse gas emissions.
The province has set a goal of 37 per cent below 1990 levels by 2030. Earlier this year, the government released Ontario's Climate Change Discussion Paper in which it outlines its objectives. The paper lays out the principles and aspirations guiding the government, and determines that "putting a price on carbon" is a strategy that will be pursued. Plug'n Drive says that its own paper, Electric Vehicles: Reducing Ontario's Greenhouse Gas Emissions, is a response to that earlier document. The Plug'n Drive report focuses on the adoption of electric cars, specifying five adoption scenarios and their anticipated impacts on GHG emissions.
According to the group's own statistics, an EV driver in Ontario can reduce their vehicle's GHG emissions by as much as 95 per cent by switching from gasoline-powered cars to electric. A 25 per cent increase in EV sales in Ontario would result in emissions reductions equal to 6.5 per cent of the government's current targets for 2050. EV drivers can also save as much as 70 per cent on fuel costs by switching from gas, money that could be "reinvested" in the local economy. A conservative estimate puts consumer savings on gas at $1 billion by 2050. As of March 1, 2015, there were 3,825 EVs in Ontario.
Plug'n Drive's five top recommendations for accelerating the transition to EVs are:
Public education and awareness programs to help more drivers make the switch, including establishing a Centre for Innovation in Electrified Transportation
Expand public charging infrastructure, especially Level 3 "Quick Charge" stations on the 400 series highways, to allow for inter-city travel
Seek an EV mandate for Ontario that would encourage automakers to get involved in building electric vehicles in Ontario
Create a low night-time or off-peak electricity price to encourage drivers to charge their electric vehicles at night and take advantage of Ontario's low emitting surplus electricity
Electrify school buses. With 18,000 diesel school buses in Ontario that only operate for a few hours each day and spend significant time idling, the electrification of school buses would have enormous environmental and health impacts as well as fuel savings.