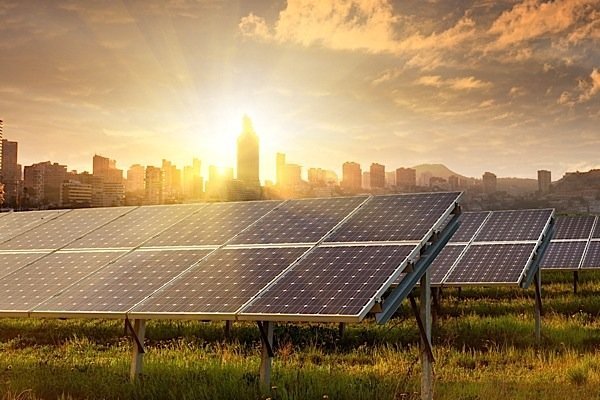 Annual grid-connected solar installations reached a record high of 40GW worldwide in 2014, reports the European Photovoltaic Industry Association (EPIA) in its latest global outlook, covering 2015–2019. China, Japan and the United States were the top three countries, installing 10.6GW, 9.7GW, and 6.5GW respectively. The EU had a total of 7GW, led by the UK, with 2.4 GW. In all, global capacity reached 178 GW at the end of 2014, more than 1 per cent of global electricity demand. The EPIA is tentatively forecasting that the world could reach 540 GW of solar installed in five years' time.
The year 2014 marked the first time ever that renewables produced more power in Europe than nuclear. Solar markets enjoyed a "perfect balance between utility scale installations and distributed ones," showing that solar can offer a solution for diverse needs, from a single light bulb to a multi-megawatt power plant.
This growth demonstrates, according to EPIA, that solar is "unstoppable." Partly this is because of solar's growing predictability as a source of electricity. It is also partly due to "massive price declines" in recent years, making solar increasingly cost competitive. The price of photovoltaic (PV) systems has declined by 75 per cent in less than ten years, the EPIA report claims. Best in class examples of power prices from PV range from below $60 per MWh to about $80/MWh. The future, sustained development of solar will depend on its ability to compete with conventional sources of electricity.
The 2014 solar PV markets showed a perfect balance between utility scale installations and distributed ones. Despite the huge interest in competitive calls for tender, the PV market remained balanced between producers and prosumers, demonstrating this unique capability of solar PV to offer a solution to diverse needs: powering a light bulb with a few watts, to offering an alternative to new conventional plants of hundreds of megawatts.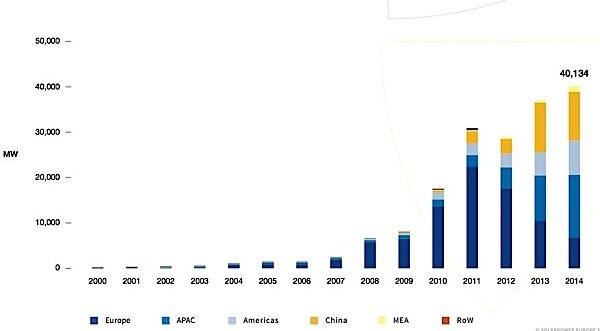 EPIA characterizes the solar power industry as one that is on the edge of a new cycle of investment. Evidence for this can be seen in the fact that innovation has become important again, with "several" manufacturers ordering innovative equipment to upgrade their current production lines or put new ones in place. As well, new module factories are opening, many in emerging markets.
The global value of the PV sector is forecast to reach100 billion euros ($138 billion Canadian) in 2015.