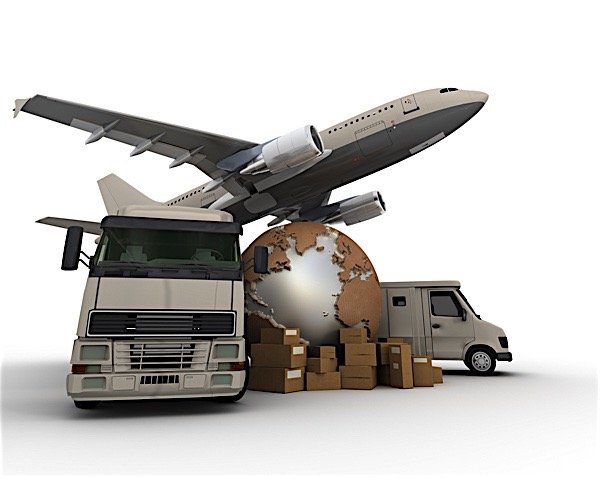 The severity of the decline in the oil and gas industry in Canada, and not only in Alberta, is made clear in Statistics Canada's just-released report on businesses' spending intentions for 2016. The report shows that spending on non-residential construction and on machinery and equipment will shrink by 4.4 per cent in 2016. Companies in most sectors will cut spending, which is forecast to amount to $241.6 billion for the year. Every province in which oil and gas is extracted will see sharp declines in capital spending, but eleven of the nineteen industries tracked by Statistics Canada will spend less this year. Private sector spending is projected to decline by 9.3 per cent, to $157.4 billion, mainly due to declines in spending on capital construction. Public sector spending, on the other hand, will increase by 6.5 per cent.
The biggest pullback in spending will be in the mining, quarrying and oil and gas industry, where spending will fall 23 per cent, to $14.3 billion, following an even greater decline of 31 per cent in 2015. Most of that decrease—77 per cent—will be in the oil and gas extraction subsector, including both conventional and non-conventional oil extraction. Over 95 per cent of the drop in spending will be seen in three provinces: Alberta, Saskatchewan, and British Columbia. Companies in the mining and quarrying sector, excluding oil and gas extraction, will spend more, however, in Quebec and Ontario.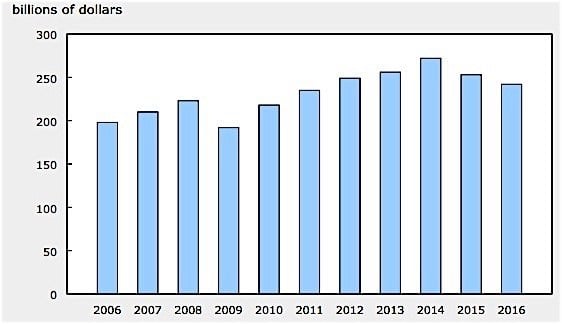 The forecast cuts in energy sector spending do not take into account the current wildfire crisis in Alberta, which has forced all of the major oil companies in the province to cut production by more than one million barrels a day, equal to one-third of Canada's daily production output. It is still unknown how the lost production will affect the overall economy for the rest of the year and beyond, but some economists are already revising their outlooks for, in some cases to zero or even negative growth. Others, however, point to past natural disasters and the flurry of rebuilding that typically follows. TD Securities, for example, sees the economy growing more in the third quarter than it had forecast before the Alberta fire, 3 per cent rather than 2 per cent.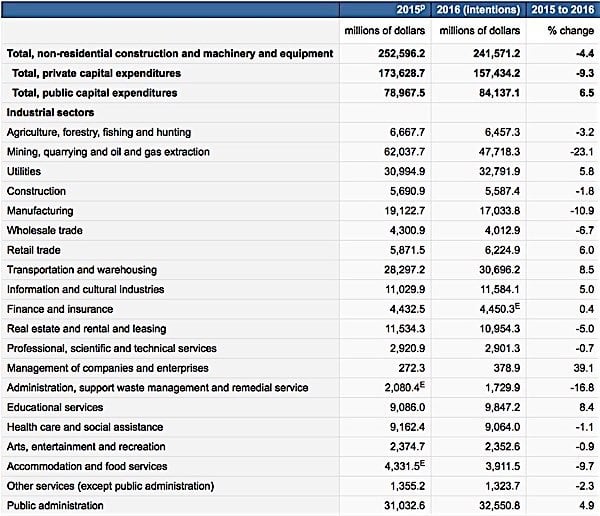 The second-largest cut in capital spending will be in the manufacturing sector. Spending is expected to fall 11 per cent, from $19.1 billion to $17 billion in 2016. The decrease will include cuts to capital construction and to machinery and equipment purchases.
Other sectors anticipating cuts in spending include real estate, rental and leasing; and accommodation and food services.
The public administration sector will see an increase of 4.9 per cent in its spending, rising to $32.6 billion, largely due to increased federal government spending.
Also anticipating an increase is the transportation and warehousing sector, expected to see spending rise by $2.4 billion (8.5 per cent) to $30.7 billion, on the strength of higher expenditures on transit, ground passenger transportation, air transportation, and pipeline transportation.
Provincially, expenditures will decline in seven provinces, led by Alberta, which will see a $10.7 billion decline in spending. Saskatchewan will be a "distant second" with a $2.3 billion drop in its mining, quarrying and oil and gas industry.
Ontario spending will be virtually unchanged, Statistics Canada says, coming in at $69.5 billion in 2016. There will be declines in manufacturing, public administration, and real estate sectors, but these will be offset by increases in transportation and wareshousing, utilities, and retail trade.
Quebec and Nova Scotia will both see increased spending.