Engineer designers have long dreamt of perfecting two types of automobile — solar-powered cars, and flying cars. Despite challenges, emerging technology may make these two dreams commercially feasible. EDI features five companies working on solar-powered vehicles, including mainstream automaker Hyundai. [Note: None of the cars profiled here are fully powered by solar power. Here, the solar power panels run supplemental role, since most of these cars have plugin charging.]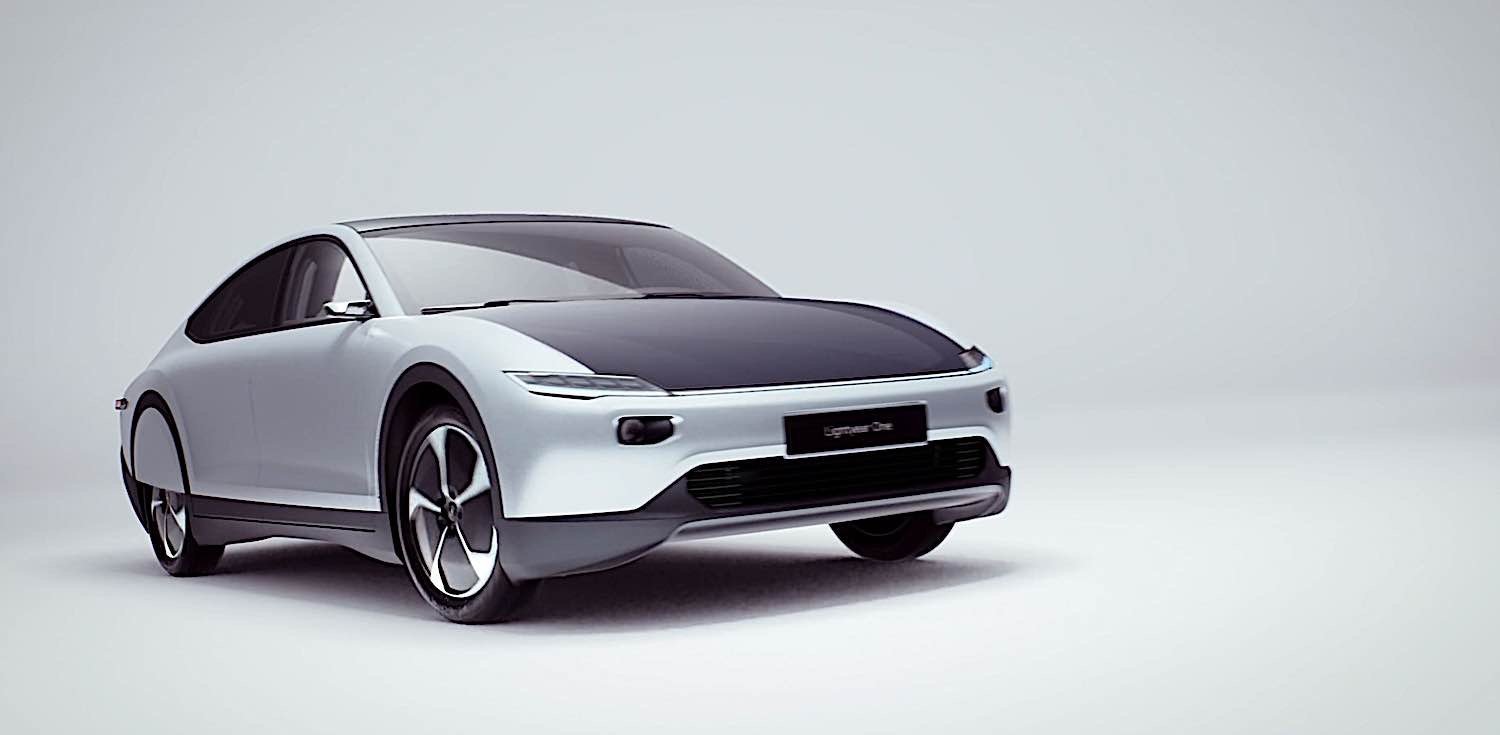 Even though electric vehicle visionary Elon Musk declared solar cars "inefficient"[1] no less than six companies are aggressively pursuing the SPV — Solar-Powered Vehicle [Technically, Solar-Powered Electric Vehicles, with solar as supplemental to plugin-charging, although the aspiration ultimately is to have solar power someday take the central role in charging.] The SPV (a fully solar-powered vehicle) is already a staple of NASA exploration on lunar and Mars expeditions where solar and battery are the only viable options. Here, on Earth, where there are "less expensive" options, solar has never been considered a mainstream engineering option.
Solar-Powered cars first appeared I the late 1970s, with the very first "fully" solar powered car developed by Greg Johnson and Joel Davidson in 1984. [2] The Venturi Electric (2006) came close to mass-production and made use of both solar and wind in a form-factor that is reminiscent of a Mars rover. Limited by a thirty mile range and maximum speed of 30 mph, it was't enough to make it mainstream popular. (It was, however, named "Best Innovation of the Year" (second to the iPhone) in Time Magazine.)

Six companies working on SPVs
Despite the challenges, the race is on to break through into a truly zero-emissions electric car. While Tesla's and other EVs still require grid power — and cannot really be considered zero emissions (more like low emissions?) — solar-powered electric vehicles are entirely zero-emissions, other than emissions during manufacturing.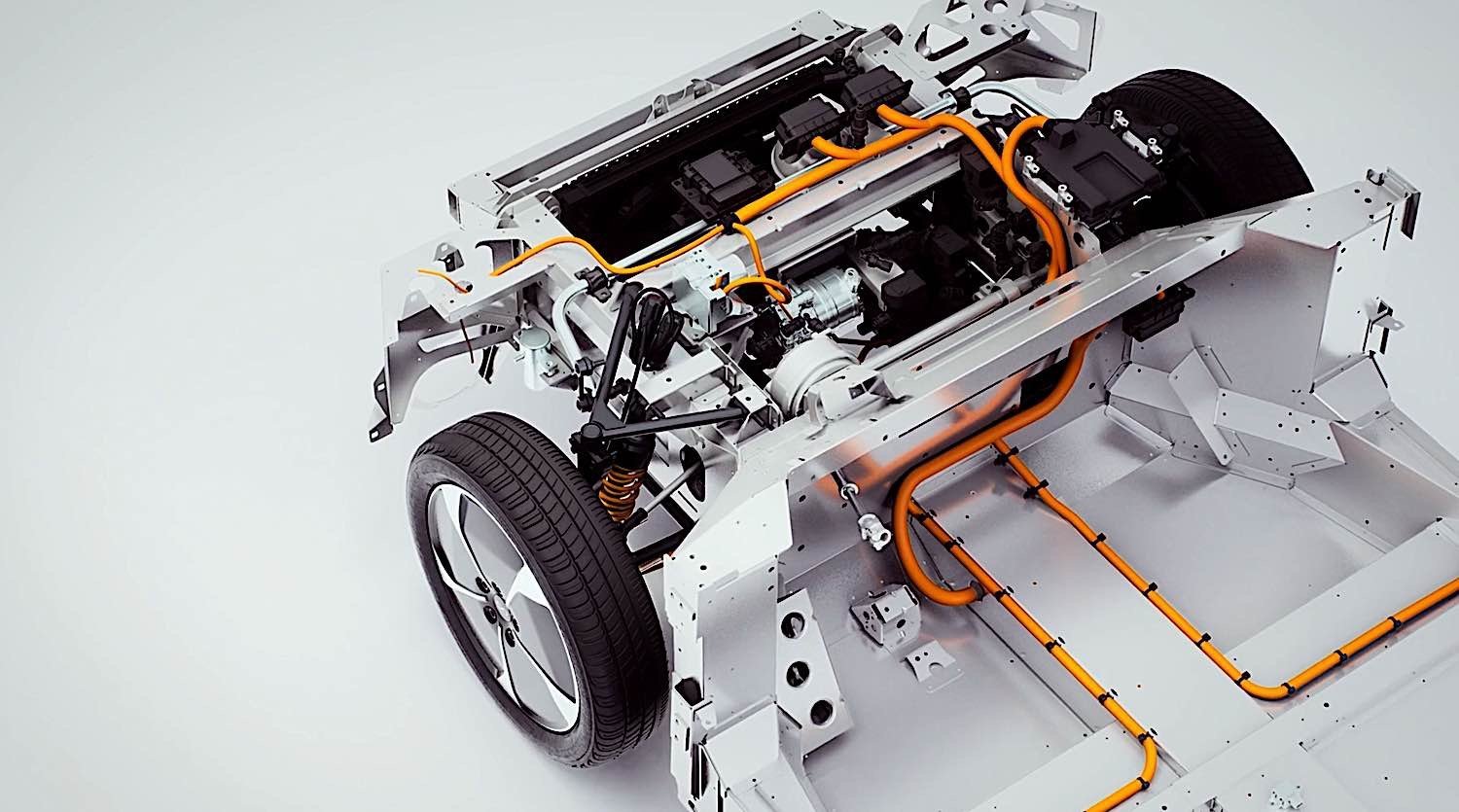 Lightyear One
The first "long range" SPV is Lightyear One, claiming 725 kilometers —depending on how you drive. Although it would be difficult to class this as a pure SPV, due to plugin charging that is clearly meant to be used, this Tesla-like car sports great looks and a practical electric vehicle range from solar charging.
From bumper to bumper Lightyear One was designed to optimize range in "real life" driving scenarios with
optimized weight, from frame to components, including use of aluminium and carbon fibre
solar roof and hood (all major panels)
fast-charging technology (if you have to "plugin" to charge)
super slippery aerodynamics, one of the lowest in production.
This Euro-chic car will "provisionally" sell for 149,000 Euros including VAT, and requires a 4,000 Euro deposit. Like other SVPs, it is not zero emission (technically) if you use the optional grid charging.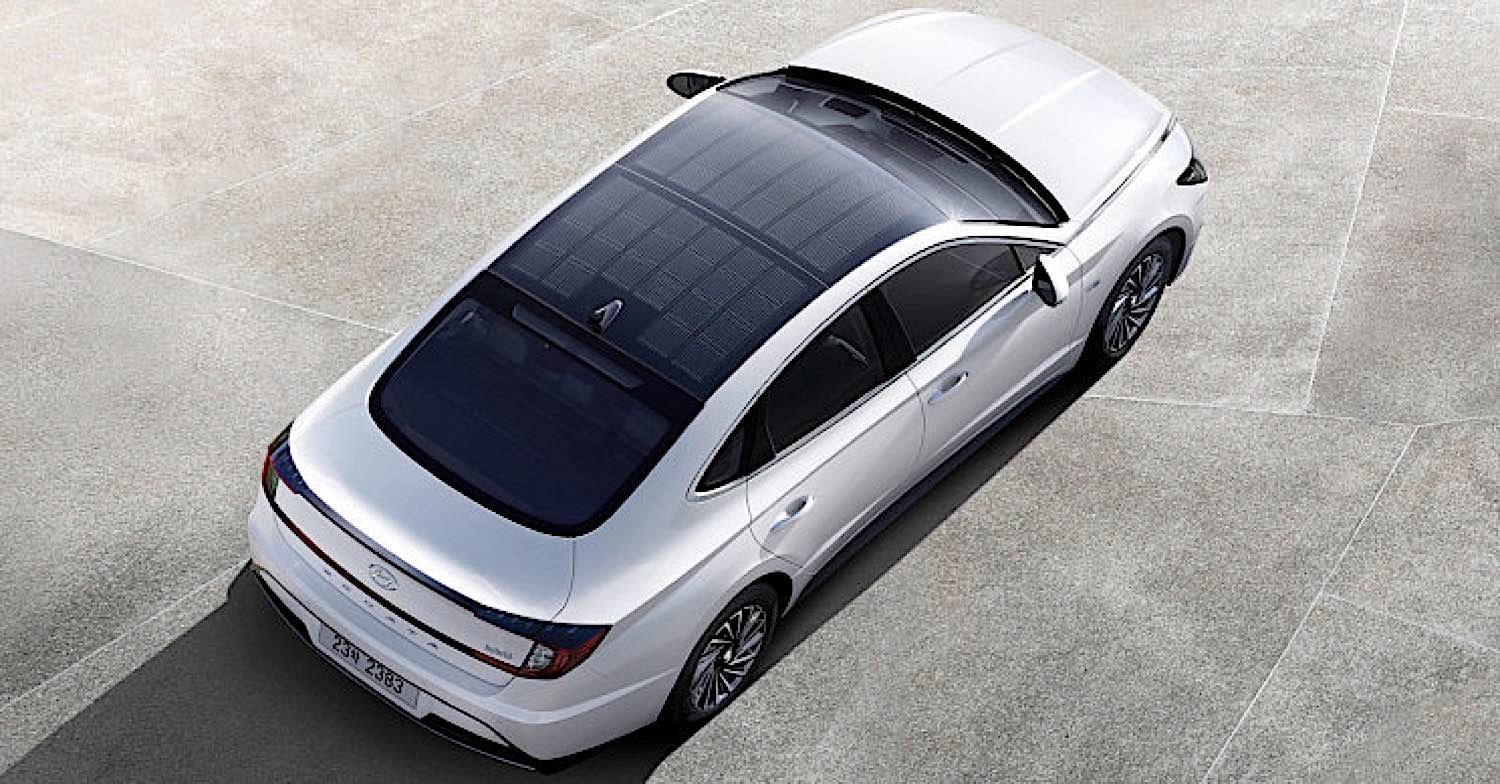 Hyundai — first auto "big" to join in
Hyundai joined the more boutique producers with a solar-powered hybrid version of the Sonata. Although solar plays only a "supporting role" to the hybrid, Hyundai is committed to developing solar technology in it cars. Currently, if parked in the sun, the car only generates enough stored power for two miles of electric powered travel per day — but it is a promising "supporting technology." Hyundai claims this amounts to an average increase in travel distance of 1,300 km annually.
Sion from Sono Motors
The Sion first created buzz in 2016.[6] Already into a new design, the Sion has 248 solar cells integrated into the body panels and can be self-sufficient for short distances. When fully charged — which can be from plugin-sources or solar — it can run a range of 249 km (155 miles). The car is reasonable at $28,500. [See video. ]
Squad
With a speed of 45 km per hour, the Squad is — dare we say — super cute and affordable. Described as a "self-charging" electric vehicle it charges constantly when there is sun, and qualifies as a zero emissions car — unlike plugin electrics, which rely on the power grid.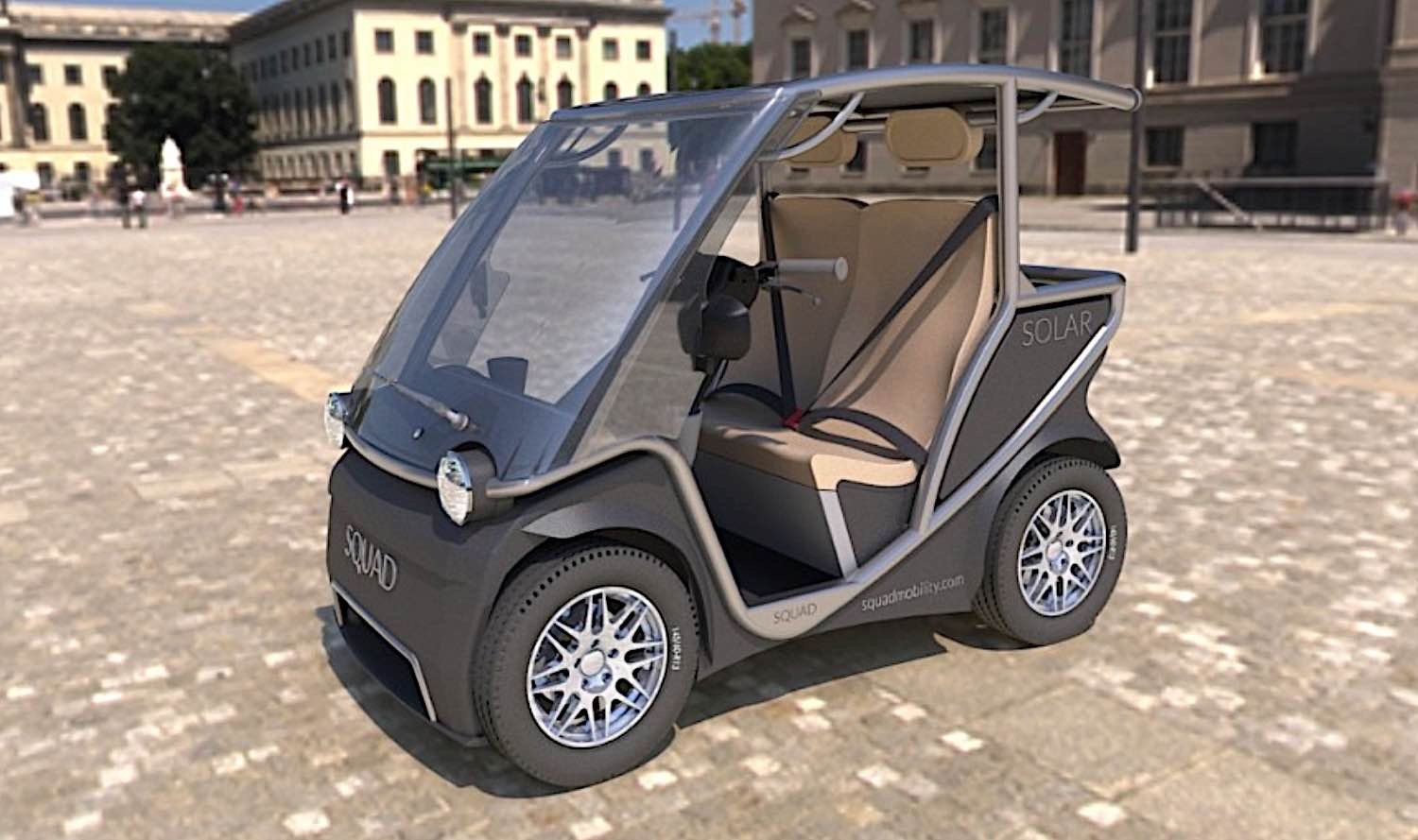 Rober Hoevers CEO of Squad Mobility is quoted in a press release as saying: "Our solar-electric Squad can charge up to 9.000 km per year in a sunny country with its own solar roof, making it completely emission-free for most users driving circa 30 km or 1 hour per day for 300 days a year in an urban environment."
You can also park four of these in the pace taken by one SUV. Did we mention it's cute? [4]
NOTES
[1] Elon Musk speaking at the 2017 National Governor's Association meeting: "the least efficient place to put solar is on the car."
[2] Solar Powered Cars — Information
[3] Venturi Electric
[4] Squad website
[5] Lightyear One
[6] Sono Motors Sion website.