From "humble beginnings" in a distributorship agreement fifty years to its current status as one of Canada's most important auto makers, Toyota has come a long way. Now celebrating fifty years in Canada, the company has sold more than 4.6 million vehicles in this country. It has been making cars here since 1988, and now builds "Canadian favourites" Toyota Corolla and RAV4, as well as the Lexus RX350 and RX450 at its Cambridge and Woodstock plants in Ontario.
According to Toyota, the Corolla is its most popular car in Canada. No surprise, then, that Toyota chose it to help commemorate the fiftieth anniversary. For a limited time, the 2015 Toyota Corolla S will be available in two additional trim packages, being sold as the 50th Anniversary Special Edition. They will be available only in Canada, and built at Toyota's north assembly plant in Cambridge.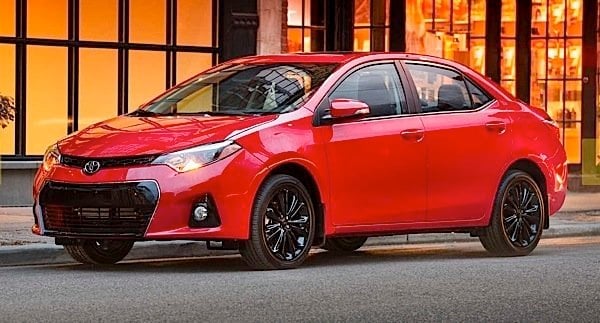 The special anniversary edition being offered has 17-inch aluminum alloy wheels with black gloss finish, "unique" red interior stitching, wheel locks, and rear disc brakes. An alternate version has power sunroof and automatic climate control. These add-ons, minus the red stitching, are also offered to regular purchasers of the Corolla S as upgrades. Both are offered in an "exclusive" Absolute Red paint finish, and buyers can choose six-speed manual or CVTi-S automatic transmission.
Toyota recently marked another milestone in Canada, selling 100,000 of its Prius and Lexus hybrids. The Prius was first introduced in 2000.
The company employs a total of "about" 11,000, including its financial services. With dealerships included, the number of Toyota employees in Canada rises to 24,000.