NextEra Energy Canada has been given approval from Ontario's Environment Ministry for a $300-million wind farm near the Lake Huron shoreline. The Goshen Wind Energy Centre, which will involve the construction of sixty-three wind turbines with a capacity of 102 megawatts, will go ahead despite the objections of the two muncipalities in which it will be located. Bluewater and South Huron councils have passed resolutions declaring that they are opposed to the wind farm.
Goshen Wind Inc., a subsidiary of NextEra Energy Resources, will own and operate the wind farm under a twenty-year feed-in tariff contract with the Ontario Power Authority. The farm will consist of sixty-three GE 1.6-100 and 1.56-100 wind turbines. A transformer substation and underground electrical collection lines, as well as access roads, three permanent meteorological towers, and an operations and maintenance building make up the main components of the project. Each turbine will be mounted on a concrete foundation of approximately 400 square metres, 3 metres deep.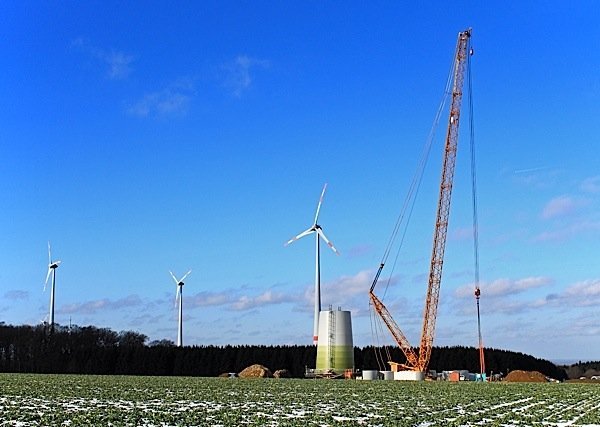 Objections to the wind farm included fears that it will interfere with, and possibly kill, migrating tundra swans. The NextEra proposal for the project, prepared in 2012, states that "mitigation measures" to deal with the disturbance or mortality of birds and bats will consist in periodic shut-downs of the turbines at times of higher risk to birds, and mortality surveys to be carried out in the first three years after construction.
Another concern was that the Goshen project would interfere with Environment Canada's weather radar station nearby. Approval of the project required Goshen's assurance that the wind farm will not adversely affect the radar system. The Environment Ministry has also imposed certain conditions, including the establishment of a community liaison committee comprising members of the public and company officials.
Construction is to start in August and will employ 300 construction workers at peak.
NextEra, which is based in Florida, began operating its Bluewater Wind Energy Centre north of Grand Bend this month. Several other projects, including the Bornish wind farm near Parkhill and Adelaide Wind Energy Centre near Strathroy are in final stages of construction. The company operates two solar farms as well.