Broad-based growth in several major sectors of the economy lifted Canada's GDP by 0.3 per cent in October, Statistics Canada reports. The growth was more robust than economists had expected, following a 0.4 per cent gain in September. Growth for the fourth quarter is now projected to be 2.5 per cent, barring serious weakening in November and December. The worldwide collapse in oil prices is a major concern for Canada, and some oil companies have already said that they planned to reduce activities and spending next year.
Nonetheless, notable gains were made in mining, oil and gas extraction, and manufacturing in October. Oil and gas extraction rose 1.5 per cent, after a September increase of 3.6 per cent. The increase was led by non-conventional oil production, i.e., oil sands. Natural gas production was down.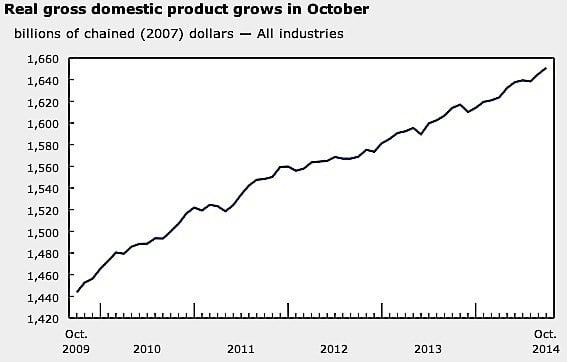 Manufacturers turned in their second strong performance in as many months, with output rising 0.7 per cent, following September's 0.8 per cent increase. Manufacturing output is at its highest in six years, largely due to increased demand in the United States. The US economy has been growing even faster than Canada's, with 5 per cent annual growth in the third quarter, its fastest growth in eleven years. The lower Canadian dollar is also a benefit to exporters.
Despite the reported rise in October's output, Statistics Canada earlier reported that manufacturing sales had fallen by 0.6 per cent in October. The drop was the result of lower production in the aerospace industry and in primary metals. Excluding those two sectors, sales were up 0.4 per cent, with higher sales in fifteen of the twenty-one industries tracked by Statistics Canada.