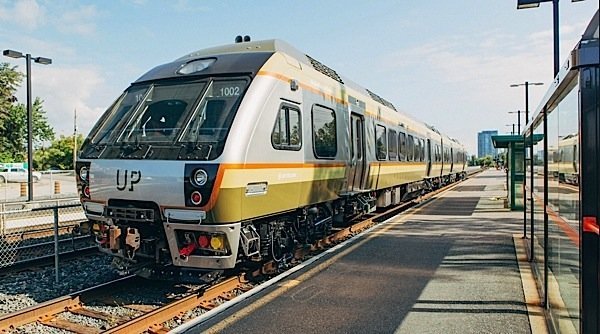 Two of Ontario's most influential transit advocacy groups have reacted favourably to the Wynne government's budget, brought down today at Queen's Park. The Ontario Public Transit Association (OPTA), which represents public transit systems in the province, called the dedication of $31.5 billion to transit over ten years a "step in the right direction." It will allow the province to commit to funding an LRT system on Hurontario Street in Mississauga as well as rapid transit projects in Hamilton, according to the CEO of OPTA, Karen Cameron.
The Canadian Urban Transit Association (CUTA) said that it was "pleased" that the government remains committed to transit. The group approves of the government decision to "maximize" assets such as Hydro One. The government announced in the budget that it planned to sell 60 per cent of Hydro One.
Another controversial move that the two groups support is the introduction of a cap-and-trade carbon pricing mechanism. Both OPTA and CUTA had recommended the move in pre-budget submissions, saying that the proceeds could be used to invest in public transit.
"This budget reaffirms and further strengthens the Ontario government's understanding of the importance of mobility in the health of our economy," says Cameron, adding that, "cities are our economic hubs and transit not only needs to keep pace with their growth, it needs to drive it."
Of the $31.5 billion earmarked for transit, $16 billion will be invested in the GTA and Hamilton, the rest elsewhere in the province. Enhancements to GO Transit will lead to a Regional Express Rail network. Toronto transit projects include LRT lines on Finch West and Sheppard East, a Yonge North subway extension, and the Dundas Street bus hub. However other major projects such as Toronto Mayor John Tory's SmartTrack plan is not funded, until the other levels of government declare themselves.
Highways will also receive money. The 401 will be widened in Peel Region and improved in London. Expansion and improvement work is also planned on highways 7, 417 and 407 in southern Ontario and highways 69 and 11/17 in the north.