The global movement toward clean energy is gaining momentum, particularly in Canada as more and more companies transition to green energy sources such as solar and wind power in an effort to reduce greenhouse gas emissions.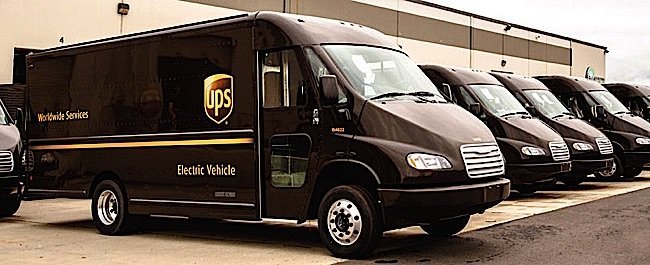 As of June 27th, UPS Canada has beefed up its sustainability program and announced plans to replace traditional fuel with more sustainable and environmentally-friendly options. The company also stated that it will add advanced technology vehicles to its fleet.
UPS chairman and CEO David Abney stated, "Because of our size and scale, we know our commitments can shape markets, advance technologies, and be a catalyst for infrastructure investments." He continued, "We rely on the ingenuity of our employees, suppliers, and technology partners to help us reach goals that will transform the shipping industry and spur innovation."
The company's strategy has been outlined as follows:
By 2018, approximately 50 percent of the Canadian fleet is slated to run on alternative fuels.
By 2020, one out of every four new vehicles purchased annually will be alternative fuel vehicles.
By 2025, renewable energy sources will contribute to 25 percent of the company's total energy consumption.
By 2025, 40 percent of all ground fuel will be derived from sources other than conventional gasoline and diesel. These sources include low-carbon fuels such as renewable diesel and natural gas.
The company also plans a 12 percent decrease in greenhouse gas emissions by 2025.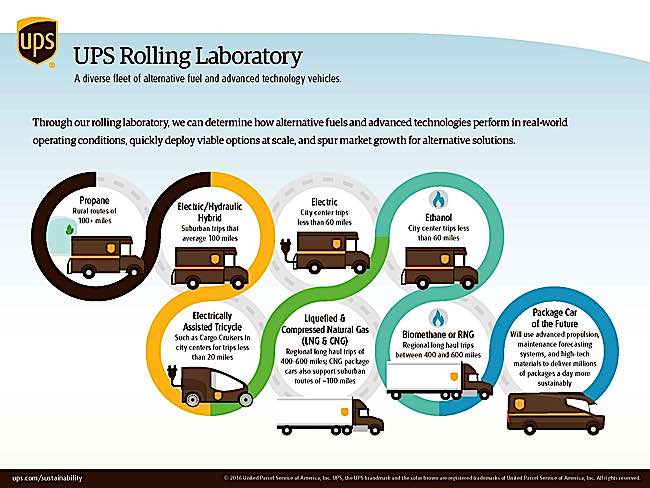 Download or view a PDF of the above file: UPS_Rolling_Lab UPS Canada Alternative Fuels
Current fleet already 8300 alternative fuel vehicles
Currently, UPS's fleet includes 8,300 alternative fuel vehicles globally. These vehicles include those that are electric and hybrid electric, hydraulic hybrid, liquefied natural gas, compressed natural gas, and more.
According to UPS Canada president, Christoph Atz, "UPS is addressing sustainability right here in Canada throughout our own business initiatives, as well as through our customers' supply chains. With our continued investment in Canada, we now have more than 2,880 package cars, tractors, and shifters, of which approximately 40 percent run on low-emission propane. In order to support UPS's overall alternative fuel goal, in Canada we have a target to have 50 percent of our fleet funning on alternative fuels in 2018."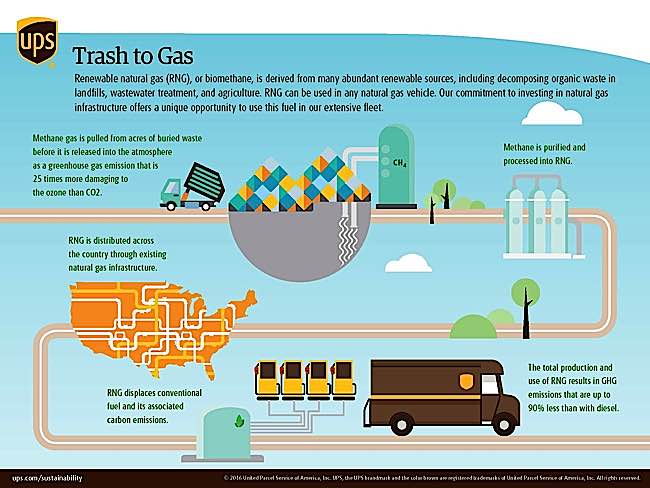 Download or view a PDF of the above file: UPS_Trash_to_Gas
Since 2009, UPS invested $1 Billion in alternative fuels
Since 2009, the company has invested almost one billion CAD in alternative fuel, advanced technology vehicles, and fuelling stations worldwide. Over 360 million liters of alternative and lower-carbon fuels were used in its ground fleet in 2016. Additionally, the company invested over $23 million in solar energy systems across eight facilities. According to the UPS Alternative Fuel and Advanced Technology Vehicles fact sheet, the company uses a rolling laboratory approach that replaces vehicles with alternative fuels and energy-efficient vehicles when possible, effectively determining which alternative works best for each situation. UPS determines which alternatives will be used, and those adopted must meet certain criteria.
The fuel sources, vehicles, and other advanced technologies should be safe and reliable, significantly lower greenhouse gas emissions, and be economically viable. The initial purchase price, maintenance costs, etc. are weighed, and prototypes are tested on the road. UPS has developed a strict standard that will only accept fuels and technologies that significantly lower overall costs, reduce emissions, and require less maintenance and repairs than other alternatives. Furthermore, supply of these vehicles and their parts should be predictable. The company is going to great lengths to ensure that it meets the needs of customers in ways that are both economically viable and environmentally friendly.