Bombardier Commercial Aircraft has received approval from Transport Canada to test fly its CS300 aircraft. The flight could take place next week, weather permitting. The CS300 is the larger of Bombardier's new CSeries single-aisle jets, capable of holding up to 150 passengers. The smaller CS100 has already flown more than 1,000 hours in test flights, according to Bombardier, and test results "are looking great. The CSeries aircraft are the only "100 per cent new" airliners designed for the 100–149-seat single-aisle market, the company says, and offers a 15 per cent cash operating cost advantage and a 20 per cent fuel burn advantage. Bombardier says it has booked orders for 563 CSeries planes, including firm orders for 243.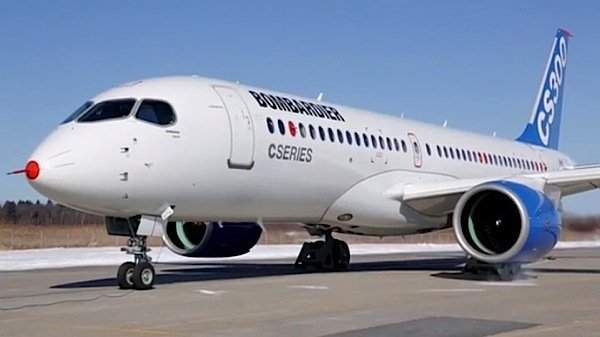 The news of the pending test flight for the CS300 comes just days after the company made news in the financial pages. Earlier this week, Bombardier announced a C$750-million equity offering to raise money to continue the CSeries development program. Since then the company has increased the size of the offering to C$938 million, after demand proved high. The shares are being offered at a 10 per cent discount, relative to current Bombardier share prices. Trading in regular shares was halted on Thursday afternoon.
The cost of developing the CSeries has risen from US$4.23 billion a year ago to US$5.4 billion now. There have been several delays, notably due to engine problems with the CS100.
The Quebec government had said that it was prepared to "bail out" Bombardier, but with the success of the equity offering, it now says that is not necessary. "They are not in that kind of situation. Turbulence maybe, but no bailout," the Quebec economic development minister, Jacques Daoust, said today. According to the Canadian Press, Bombardier has not asked for money from the government and has no plans to do so.