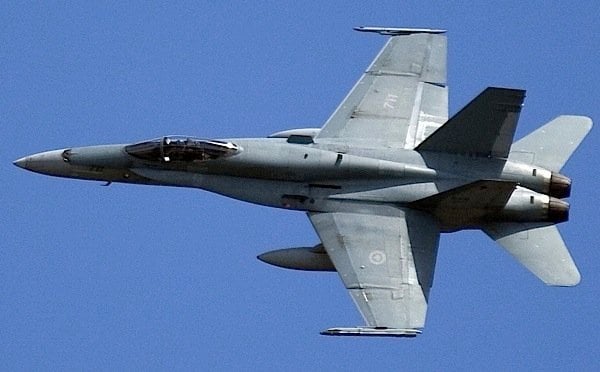 Two of Canada's most important aerospace companies, both based in Ontario, announced significant business developments today. Magellan Aerospace, which currently has a repair and overhaul services contract with the Canadian Armed Forces, said that the work will continue for another year under the terms of the contract. The contract extension has a projected value of $13.5 million. The work involves servicing the F404 engines that power Canada's CF-18 Hornet aircraft, seen above.
The CF-18, (also referred to as CF-188), is made by McDonnell Douglas. It is a fighter jet based on the version used in the US military, the F/A-18 Hornet. Canada has used CF-18s since the early 1980s, and they have been used in combat missions in the Gulf War in 1991 and the NATO-led Kosovo campaign in the late 1990s. They are also currently being used in Canada's military strikes against ISIS.
Magellan Aerospace has been the RCAF's choice for F404 engine repair and overhaul service for more than 30 years, said Phil Underwood, president and CEO of Magellan in a press release. Under the option, Magellan will provide maintenance, engineering, material management, provision of field service representatives, and publication support for the CF-188 F404 engine and ancillary components. The work will be carried out at Magellan's facility in Mississauga, Ont.
In Cambridge, Ontario, meanwhile, space hardware and services provider COM DEV International announced that it has received $10 million in funding for a project that was originally contracted in 2013. The original contract had a value of $65 million, of which $38 million was released at the time. The latest funding is for the delivery of equipment for the second of several commercial communications satellites. The first satellite is "largely complete" with all equipment either delivered or in final testing, COM DEV said.
Each satellite is being designed to unique specifications, with multiple bands that deliver a range of high-throughput communications services to users worldwide. The satellites are built with the latest passive microwave technologies, the company said in a statement, to help them deliver a "high performance, next generation satellite platform."