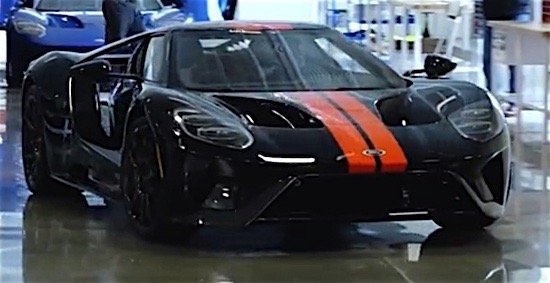 Auto writers are falling over themselves to praise the new Ford GT supercar, which is now in limited production at a small plant in Markham. The first vehicle rolled off the assembly line at Multimatic, driven by Ford's executive vice president, global product development, Raj Nair. Calling it an "assembly line" is a bit of a misnomer; at present the plant is producing just two cars a week, though that will ramp up to one a day. Ford plans to produce the car for four years, for a total of 1,000 units, all of which are bespoke. The selling price is said to be $450,000, making it Ford's most expensive car ever.
First introduced at the Detroit auto show in 2015, the GT "hypercar" is a high-performance vehicle designed to excel at the famous Le Mans car races, according to Nair, and it has done that, winning first place and third place in a pair of GTE Pro Class races earlier this year. The car is a showcase of Ford's strength in innovation and commitment to delivering more to customers, he said. The car has a carbon fibre body powered by twin-turbocharged V6 engines that deliver 600 horsepower.
The all-new Ford GT is a showcase of our strength in innovation and our commitment to delivering more for our customers—especially related to light-weight materials, aerodynamics and EcoBoost engine technologies.
One expects the executive in charge of production to praise the car, but auto writers go much farther. A writer in Road & Track resorted to hyperbole, saying the GT, which he has only seen in prototype form, is "so exactingly and innovatively designed" that it can't even be called a supercar; it is a "weapon." Among its competitors are the Lamborghini Aventador, the McLaren 650S and the Ferrari 488GTB.
Car and Driver says the GT has the most "stunningly exotic" bodywork in existence. It has been engineered to keep company with exotics, said Ford when it revealed the car in Detroit last year. Even after a year of "astonishing" high-performance and supercar launches, including the Chevrolet Corvette Z06, Chevy Camaro Z/28, Porsche 918 Spyder, Ferrari LaFerrari, Mclaren P1 and the Ford Shelby Mustang GT350, "we were floored," wrote Car & Driver, raving about the car's aerodynamics, suspension, adjustable ride height and "the sheer brassiness of the thing." The car's engine control unit reportedly processes 3,000 signals from fifty sensors throughout the car and uses twenty-eight microprocessors running 10 million lines of code, more than a Boeing 787.
A writer in Driving, meanwhile, called it "achingly gorgeous." It gives you everything you want in a maximum performance engine and none of the things you don't want. It is a car, said Nair, that "will test your courage."