The latest survey of Canada's manufacturers shows higher volumes of new orders and increased production levels in October as firms continue to hire workers to meet demand. Expansion of manufacturing production was greatest in Ontario, though all regions of the country posted increases in employment levels. The RBC Canadian Manufacturing Purchasing Managers' Index (PMI) is a "comprehensive and early indicator" of trends in the manufacturing sector, RBC says. The survey is carried out by financial information services provider Markit.
In October, the PMI reached 55.3, up from 53.5 in September: 50 is the neutral value. It was the nineteenth consecutive month in which the index was above 50, and indicated the strongest improvement in "overall business conditions" since last November.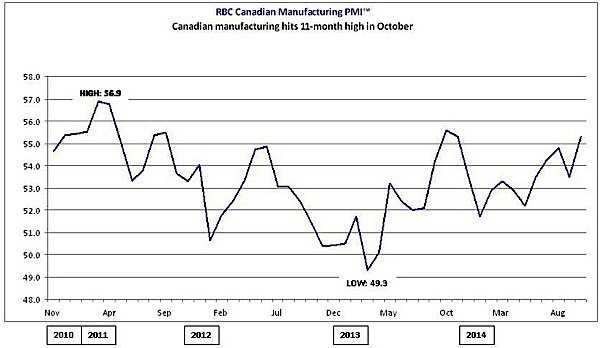 As is usual, economists point to the U.S. economy as the great hope for Canada's manufacturers. Craig Wright, RBC's chief economist, said that the "strong uptick" in business conditions for Canada's manufacturers, which was driven by new order growth, is largely the result of the improving U.S. economy. "Despite the challenges we are seeing in the European and emerging markets, the continued recovery of the U.S. economy should continue to support Canadian exports going forward," Wright said.
The October survey suggests that new business levels are not entirely the result of new export business, however, which is described as "marginal." Rather, "anecdotal" evidence indicated that higher sales volumes were linked to new product launches, "successful marketing" initiatives and "competitive pricing strategies."
Other signs of the improving business conditions are high levels of job creation, which remained close to August's eleven-month high. The accumulation of backlogged work in October was the sharpest in three months. It was the ninth consecutive month in which backlogs were accumulated.
Canada's manufacturing sector looks to have regained momentum at the start of the fourth quarter. Business conditions improved at the fastest pace for almost a year, highlighting that the sector is showing resilience in the face of subdued demand across the euro area and emerging markets. Solid job creation was maintained during October, but supply-chain pressures remain a concern as the latest survey indicated a steep and accelerated deterioration in suppliers' delivery times.

Cheryl Paradowski, president and chief executive officer, SCMA (Supply Chain Management Association)
Despite the positive report from RBC, Statistics Canada actually reported that manufacturing output had declined in August—national economic statistics from the government agency typically lag by about two months. Canada's GDP dropped slightly (0.1 per cent) in August as well, after showing no growth in July. The decline was seen across most industries, with oil and gas extraction, and manufacturing showing the greatest drops, with 1.7 per cent and 1.2 per cent respectively.