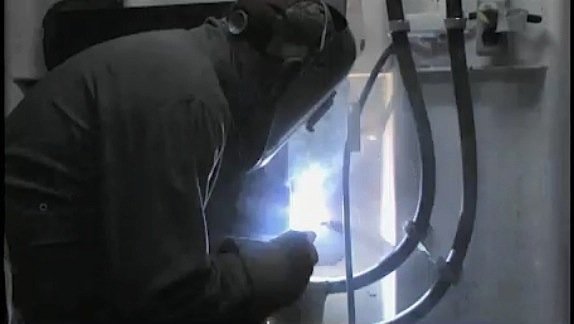 Canada's national shipbuilding procurement strategy, announced more than five years ago, with a price tag of $40 billion, will see the building of up to fifteen new combat ships and a number of Arctic patrol ships. Last January, Irving Shipbuilding of Halifax was named the prime contractor for the bulk of the vessels to be built, including the combat ship portion of the strategy. So far, no ships have been built, despite the five years since the initial announcement.
That is about to change, however. Irving is now gearing up to begin work on the first ship to be built under the terms of the agreement, reportedly one of the smaller Arctic patrol ships. The company has advertised for experienced skilled workers, including welders, pipefitters, ironworkers, and marine fabricators. Irving has also staged a number of job fairs, including one in Fort McMurray, Alberta, hoping to find some of the workers it needs among the newly unemployed in the oil sands. The shipbuilder needs to recruit 200 workers by September 1, when work is set to begin.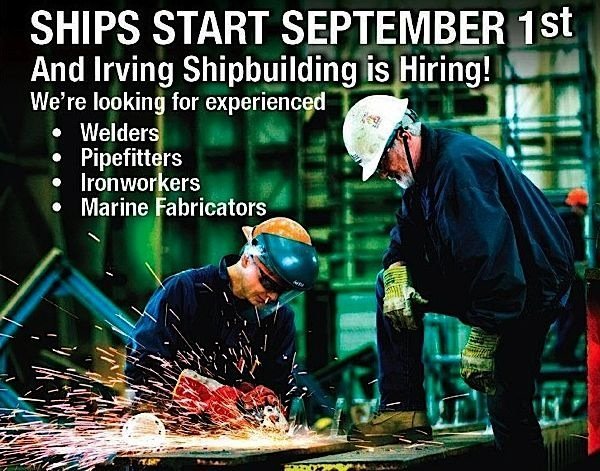 If all the ships are built according to the procurement strategy, there will be enough full-time work to keep the Irving shipyard humming for thirty years, a "generational commitment," according to a spokesperson for Irving. Mary Keith said that many Maritimers with the experience and skills the company needs moved to Alberta when the oil sands were booming. It is a sign of the times that now a Maritimes company is hoping to lure some of them back east. In all, Irving is expecting to hire almost eight thousand workers by the end of 2017. Coincidentally, that is the number of people in Fort McMurray who are now looking for work.
Since the latest downturn in the oil sector, unemployment in northern Alberta has surpassed the national average, according to Statistics Canada, reaching 8.3 per cent in May. The unemployment rate in Fort McMurray more than doubled in the past year. The national unemployment rate average was 6.8 per cent in May.